The salt, sun and bamboo gardens of Sarasota-Bradenton will soothe your body and soul to prepare you and your family for a new year! Staying outdoors in the Florida sun is not only healthy but will revitalize you and your family say the travel experts at Gulfcoastguys.com.
(PRUnderground) October 14th, 2020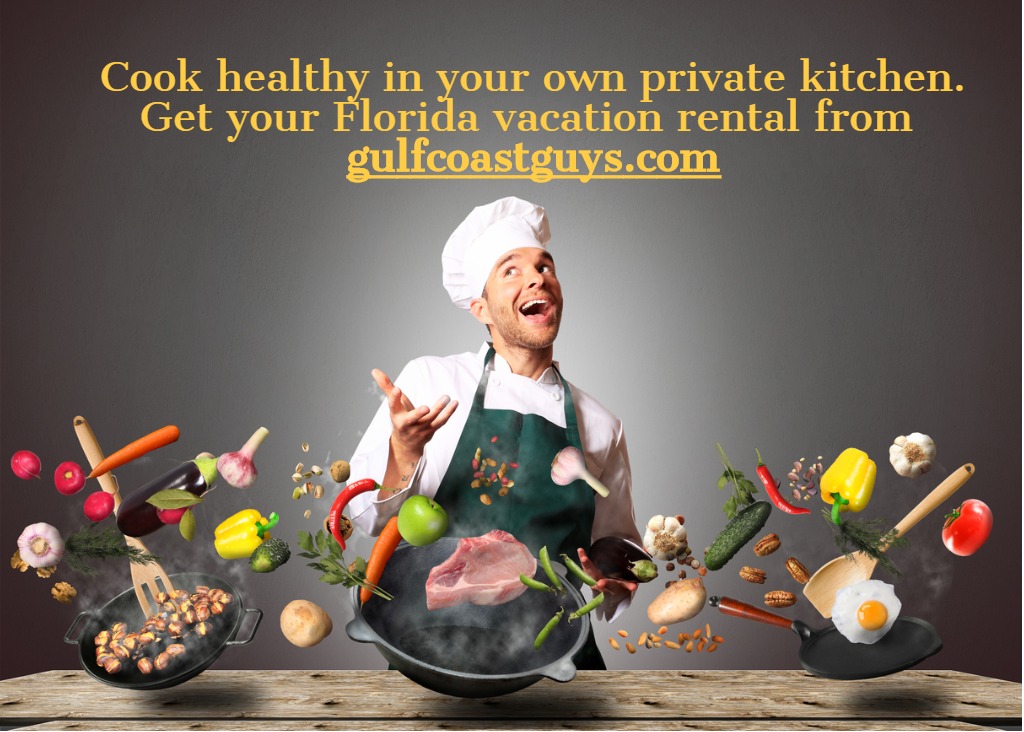 Escape the pandemic scares by starting the new year in your own private vacation rental home from gulfcoastguys.com.  Choose a home with your own pool where you can work remotely in the Florida sun and not worry about social distancing in your own private rental home.   After work or school, you can explore the colorful marine life, warm breezes, soft sand and outdoor adventure just minutes away from any of our rental homes.
And with every new year there are resolutions to revitalize your body and soul!  And there's nothing like a private kitchen and swimming pool to nourish and build new habits and experiences for wellness.
Healthful eating for you and your family is easy by creating your own gourmet wellness meals in your private kitchen – or better yet, learn wellness cooking at one Sarasota's gourmet cooking schools.   Professional cooking classes are offered by  Williams Sonoma Sarasota  and Publix Aprons Cooking School as well as instruction on cookware, appliances and gourmet foods.  These Sarasota schools are back in session; and follow CDC guidelines while wining and dining with their expert chefs – and chefs classes are available almost everyday so you can expand your culinary skills and knowledge and make your new year's healthy wellness habits stick!
Your physical fitness wellness can begin in your own private pool if you rented one of our luxury pool homes, or the landscaped gardens in one of our garden homes.  Better yet,  seek out one of the local wellness professionals with locally inspired philosophies to indulge your every sense.  Sarasota and Bradenton have many local fitness studios, spin studios and yoga retreats, even paddleboard yoga on tranquil waters (yoga on the water with Saltybuddha on Anna Maria Island) .  And whether you prefer to meditate in a tranquil bamboo garden or embark on a vigorous kayak expedition through world-class rowing waters in Nathan Benderson Park, there is a corner of Sarasota-Bradenton that will fill your desires for renewal, fitness and wellness.
Rent for a week or a month and work remotely and let the kids educate remotely while taking more time for yourselves in the new year with an escape to nourish both body and soul.   Our luxury rental vacation rentals let you work and learn remotely while you commune with water and nature; and after work or school, savor Florida's fresh cuisine or experience the tranquility of gulf coast fishing or paddleboard yoga.
From salt water therapy to yoga on the beach, or just working by the pool.  A week or two in a luxury rental home in January, February or March will rejuvenate and renew your spirits and revitalize your family to feeling better than ever for the rest of the year.  Start by choosing one of our pool homes at gulfcoastguys.com or talk to one of our knowledgeable staff for help with finding the best vacation rental for you and your family.  Go to gulfcoastguys.com or call us today.
Gulfcoastguys.com has all kinds of home rentals in the Sarasota and Bradenton areas.  If you are new to the Sarasota – Bradenton area, or you want new places to explore, you can learn more about these great areas at these links –  Visit Sarasota and Bradenton Gulf Islands .
All homes are cleaned and sanitized to governmental standards and come with the itrip worry free guarantee (see itrip.net for details).  Gulfcoastguys.com is an itrip.net franchisee.
About gulfcoastguys.com
www.gulfcoastguys.com is a vacation website providing vacation rentals through www.itrip.net in Bradenton and Sarasota, Florida. iTrip Vacations Sarasota-Bradenton (an itrip.net franchisee) is locally owned and operated, ensuring you and your guests receive personalized vacation rental management service. Our full-service program focuses on increasing your net rental income and guest satisfaction, so you can work less. We handle every detail – from cleaning and maintenance to dynamic pricing and gathering better reviews. Additionally, our proven marketing techniques generate more revenue for your property, which increases your return on investment.
The post Gulfcoastguys.com invites you to escape the brutal Northern cold of January, February and March weather with a Wellness Retreat in Sarasota or Bradenton Florida. first appeared on PRUnderground.
Press Contact
Name: Brad Glance

Phone: 941-900-4331

Email: Contact Us

Website: www.gulfcoastguys.com
Original Press Release.