Best-Seller Author Dr. LaShonda M. Jackson-Dean Announces Release of The Pivot Anthology
(PRUnderground) November 17th, 2020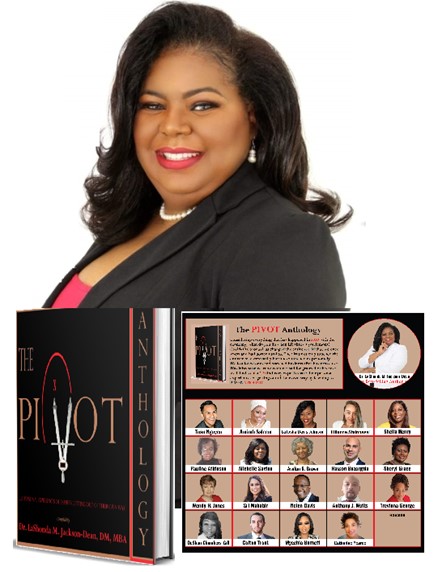 Best-seller author Dr. LaShonda M. Jackson-Dean is announcing the release of her latest book, The Pivot Anthology, topping the Amazon Best Seller list at #1 across seven business categories.
The Pivot Anthology showcases the personal narratives of 20 experts across diverse industries – medicine, insurance, engineering, retail, media, and more – who found their way to success by confronting and overcoming roadblocks.
"The anthology highlights the importance of getting out of our own way," Dr. Jackson-Dean says, "Because when we feel like we're not where we're supposed to be, or not reaching the goals we want to reach, it has to do with some outside barrier holding us back. However, frequently that's not the case. The stagnation often comes from within ourselves." Dr. Jackson-Dean says recognizing these barriers is key.
Given the public health, economic, social, and political turmoil that has dominated 2020, Dr. Jackson-Dean says the techniques within The Pivot Anthology are a very necessary read. "People are seeing their loved ones die of COVID-19, they're losing their jobs, they're losing their businesses, and they don't know what to do because we're all shell-shocked."
She adds that normally people would be fortified to face and deal with life circumstances, but these are not normal times. "Now more than ever people need to pivot in the way they're handling life, family, business, and finances. The one approach that worked before may not be the best or the only approach."
Dr. Jackson-Dean includes her own story in the anthology, recounting her years-long struggle with weight management. "In my case, the weight stuck with me because I was trying to hide issues that caused my PTSD, and hiding behind that weight felt comfortable and safe," she says, "Food didn't judge me. It didn't leave me. It became my friend. It was true to me, and it was always there."
She adds that her story is just one example of the things that hold us back in life, and a large component of the issue surrounds reluctance to seek professional help. "In some social and cultural communities there's no real concept of discussing something personal with a therapist," she says, "People are embarrassed to admit they need help. It's one of the ways they stay in their own way."
Often, a total transformation is called for. "It begins with a mindset change," Dr. Jackson-Dean says, "Followed by a behavior change, and then by a deeper, spiritual change."
Dr. Jackson-Dean has now achieved 80% of her weight loss goal. "I write my own story now," she says, "I determine what that looks like. I hold the pen and I make all the strokes."
Dr. Jackson-Dean has authored six books, and her writings have been included in three compilations. She is the owner of JDI Multimedia Network, which is dedicated to broadcasting the talk shows, podcasts, courses, and movies of entrepreneurs. Dr. Jackson-Dean produces two televisions shows, "Just So You Know Moment With A Twist," a talk show featuring entrepreneurs, business leaders, authors, and creatives; and "Just So You Know Moment With Dr. Jackson-Dean," a Christian-based podcast offering inspiration, motivation, and encouragement. JDI Multimedia Network is available on several digital platforms, social media outlets, and ROKU.
About Jackson-Dean Investments
The post Best-Seller Author Dr. LaShonda M. Jackson-Dean Announces Release of The Pivot Anthology first appeared on PRUnderground.
Press Contact
Name: Dr. LaShonda M. Jackson-Dean

Phone: 713-489-2499

Email: Contact Us
Original Press Release.