Looking for Government-Backed Debt outside of Treasury Notes?
July 07, 2021 at 09:47 AM EDT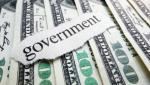 Fixed income investors looking to safely diversify their portfolios beyond safe haven Treasury notes can opt for the Vanguard Mortgage-Backed Securities Index Fund ETF Shares (VMBS). "Mortgage-backed securities (MBS) are debt obligations that represent claims to the cash flows from pools of...