QQQ Versus QQQJ: Who's Winning the Battle?
August 04, 2021 at 04:36 AM EDT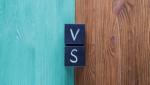 In a battle of two Invesco tech ETFs, the Invesco QQQ Trust (QQQ) and the Invesco NASDAQ Next Gen 100 ETF (QQQJ), it's the former winning thus far. Big tech names like Apple, Microsoft, and Amazon have smashed earnings reports recently, giving large caps the upper hand with QQQ. QQQJ tends to...