Bond Bites: Are Markets Prepared for the Fed to Taper QE?
August 27, 2021 at 15:19 PM EDT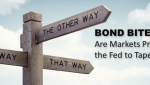 By Komson Silapachai, Sage VP of Research & Portfolio Strategy Fueled by stimulus and pent-up demand from the Covid-induced recession, the U.S. economy staged one of the sharpest recoveries in the first half of 2021 to output levels well beyond the slowdown experienced last year. As a result,...