In a time of mask wearing and frequen handwashing, ATOPALM presents ATOPALM Skin Care Survival Kit at a Steeply Reduced Sale Price
(PRUnderground) December 22nd, 2021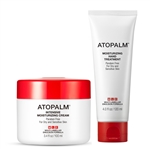 ATOPALM, K-Beauty's leading brand dedicated to developing and marketing innovative, affordable clinic-level skincare with a focus on dry, sensitive and combination skin types has paired two of their best-selling skin barrier repair moisturizers and slashed the price just about in half to make a COVID-19 ATOPALM Surivival Kit for dry, sensitive skin types.
The kit consists of ATOPALM Moisturizing Hand Treatment and ATOPALM Intensive Moisturizing Cream. The two products together normally retail for 63.00 USD, but for the time being, have been reduced to a combined sale price of 37.80 USD.
Both products rely heavily on Multi-Lamellar Emulsion (MLE), the star ingredient found in all ATOPALM products. If you're going to use only one star ingredient on your skin, MLE should be it.
"The best part about our skin survival kit is that it won't add to an already stressful situation. The keywords here are simplicity and efficiency. Most people aren't interested in adding to their daily routine right now, so we've boiled skin care down to basics, and we're offering this unique two-step mini Korean skin care regimen now at a special low price," explained Dr. Raymond Park, CEO and developer of ATOPALM.
ATOPALM Intensive Moisturizing Cream is formulated without the use of parabens, this incredibly rich moisturizing cream is a gentle yet thorough way to replenish hydration. By mimicking natural skin lipids, it is able to replenish lost lipids while simultaneously preventing over-evaporation of the skin's natural moisture. Finally, Intensive Moisturizing Cream shields the skin against the damage and discomfort associated with environmental stress, leaving the skin feeling fresh, soft, and perfectly comfortable.
ATOPALM Moisturizing Hand Treatment is designed to hydrate and soften the hands while reducing visible signs of aging. Moisturizers and antioxidants work to diminish dryness and dullness, while other ingredients tackle telltale signs of aging, including fine lines and wrinkles. With regular use, the hands will become softer, smoother, brighter, and more comfortable.
More information and a complete ingredients list can be found on the products'Dermartology.com webpages.
About Dr. Raymond Laboratories, Inc
Dr. Raymond Park has researched in skin barrier Science has helped many people who have suffered from skin barrier dysfunction. Dr. Raymond Labs has invented platform Skin Barrier Technology, named as Crystal Lamella MES (Micro-Encapsulation System) and have published more than fifty articles covering dermatological research. www.dermartology.com is the official site to introduce innovative skin barrier products.
The post ATOPALM Launches ATOPALM Survival Kit in Half to Help Dry Sensitive Skin Through the Stressors of Pandemic Life first appeared on PRUnderground.
Press Contact
Name: PR of Dermartology

Phone: 732-534-9425

Email: Contact Us

Website: https://www.dermartology.com
Original Press Release.