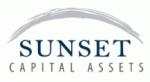 JACKSONVILLE, FL -- (Marketwired) -- 12/03/14 -- Sunset Capital Assets, Inc., (OTC: SSBN), announced today the launch of Sunset Capital Commercial, LLC, a full-service commercial real estate company integrated under Sunset's Real Estate division. This new entity will allow Sunset to expand its real estate footprint into the commercial sector, and will greatly complement the Firm's existing real estate businesses. Sunset Capital Commercial will focus on commercial brokerage, investment, and leasing services in the North Florida area, with a strategy of competitively priced premier service, and an emphasis on relationship-based operations.
"We are excited by the opportunity to work with such a high-quality team," said Ben Reichenbach, Chief Executive Officer (CEO) - Sunset Capital Commercial, who joins the Firm with over thirty years of commercial real estate experience, "This new company allows us to create significant value for investors and we look forward to growing a class-leading business under the Sunset banner."
J. Bert Watson, Jr., Chief Investment Officer at Sunset Capital Assets said, "We continue to believe strongly in the commercial sector's fundamentals, especially in our target markets. This transaction supports our strategy of organic growth as we continue to build our global real estate operations. We are pleased that our commercial business will be led by a premier operator with a strong emphasis on client satisfaction."
About Sunset Capital Assets
Sunset Capital Assets, Inc. is a boutique, global investment and advisory firm headquartered in Jacksonville, FL and well capitalized with assets valued in excess of $500 million. Founded in 2012; the right combination of values, intellectual capital, and financial resources defines Sunset as a firm positioned for significant growth. Sunset takes a pioneering, consulting-based approach to corporate equity investing, partnering with management teams to build class-leading businesses and improve their operations. Since inception, the firm has extended this approach across asset classes and seeks to build one of the strongest organically grown alternative asset platforms in the world. Further information is available at www.sunsetcapitalassets.com.
This press release includes forward-looking statements intended to qualify for the safe harbor from liability established by the Private Securities Litigation Reform Act of 1995. Our forward-looking statements express our current expectations or forecasts of possible future results or events, including projections of future performance, statements of management's plans and objectives, future contracts, and forecasts of trends and other matters. Forward-looking statements speak only as of the date of this filing, and we undertake no obligation to update or revise such statements to reflect new circumstances or unanticipated events as they occur. You can identify these statements by the fact that they do not relate strictly to historic or current facts and often use words such as "anticipate", "estimate", "expect", "believe," "will likely result," "outlook," "project" and other words and expressions of similar meaning. No assurance can be given that the results in any forward-looking statements will be achieved and actual results could be affected by one or more factors, which could cause them to differ materially. For these statements, we claim the protection of the safe harbor for forward-looking statements contained in the Private Securities Litigation Reform Act. This release does not constitute a solicitation of any kind.