As vegetables are part of a balanced diet, agriculture stocks can be part of a balanced portfolio. Whether you have an appetite for vegetables or even like them, it's safe to say all investors have an appetite for gains. Regarding agriculture, vegetables are only a portion of the sector. 
Agriculture is not just cultivating plants and vegetables but also animals and other life forms for food, medicine, and biofuel products. Agriculture stocks encompass multiple industries ranging from producing the end products to supplying the tools and materials needed to have and improve production. From tractors, fertilizers, and feed to plants and livestock and distribution, stocks fit most risk profiles for investors seeking to diversify their portfolios with these stocks. 
This article will help you navigate investing in the agriculture industry and present 12 of the best agriculture stocks to buy.  
Advantages of Farmland and Agriculture Stocks
There are lots of advantages to finding agriculture stocks to invest in and farm stocks to invest in. They offer diversification to a financial portfolio. Agriculture is extensive and diverse. It enables investors to select many different components while calibrating toward each individual's own risk profile. 
Conservative income-focused investors can opt to invest in farmland through real estate investment trusts (REITs). These provide a steady income while the underlying land continues to appreciate in value over the long run. REITs are mandated to distribute up to 90% of their taxable income as dividends quarterly or even monthly. These can be some of the best dividend stocks to own.
Moderate-risk investors can consider investing in agriculture exchange-traded funds (ETFs) to spread the risk among a basket of stocks in the sector. ETFs are managed by professional money managers, which takes the legwork out of filtering and researching potential stock candidates. Individual agriculture stocks can also be invested in, providing you do your research and feel comfortable about its operations and prospects. Some are the very definition of growth stocks. Many of the large agriculture companies are low P/E growth stocks. The most volatile agriculture companies tend to be anchored to commodity prices and are high beta stocks.
Risk-tolerant growth-oriented investors and speculators may consider investing in the agriculture technology (Agtech) industry. These companies are on the cutting edge of technology, designing tools and processes to improve efficiency and productivity in food production, resource management and environmental sustainability. The growing trend of plant-based meats to accommodate the demand for sustainable protein sources continues to push Agtech to new heights. Some Agtech companies are high P/E growth stocks on MarketBeat.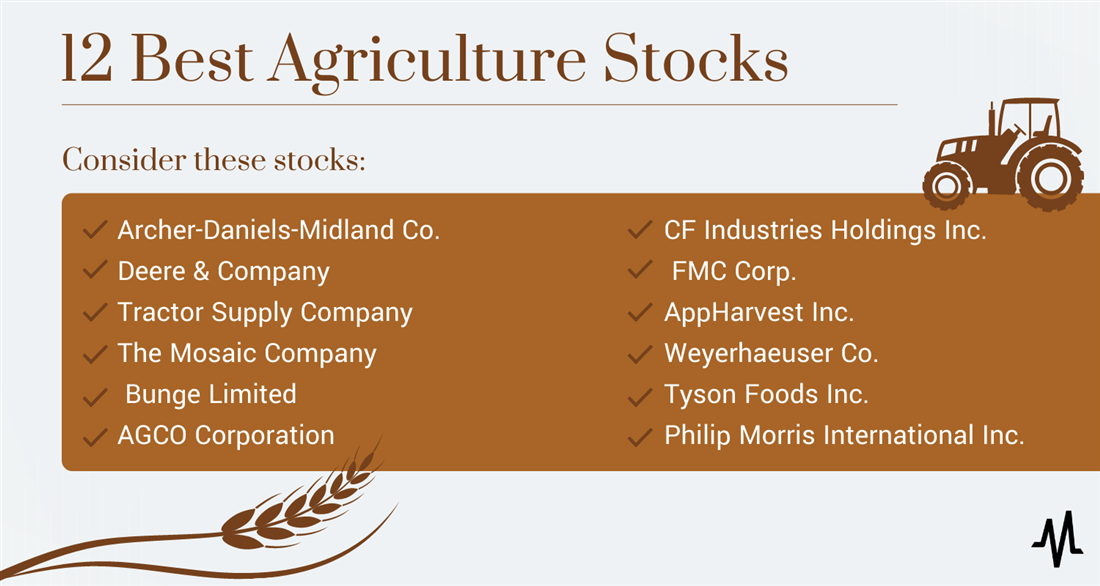 Risks of Investing in Agriculture Stocks
Agriculture stocks investing comes with risks. They tend to be anchored to commodity prices. Commodity prices can have volatile swings based on several root factors, including geopolitical conflicts and tensions, weather events, and shifts in supply and demand. They also come with regulatory risks from environmental standards or subsidies, climate change, and trade policies. When commodities experience periods of high volatility, agriculture stocks that produce food products also tend to experience price fluctuations. 
Benefits of Investing in Agriculture Stocks
Agriculture stocks tend to move with the benchmark indices like the S&P 500 but also have the benefit of being an inflation hedge. During periods of rising inflation, agricultural commodities tend to rise in price. Agriculture commodities like corn, soybeans, wheat, beef and poultry prices rise, resulting in a more expensive grocery bill. The planet's population is continuing to grow and must be fed. Rising food demand will continue to necessitate the need for agriculture and agriculture technology (Agtech). This equates to rising revenues for agriculture companies which trickles down to rising stock prices. The global agriculture equipment market is expected to grow at a compound annual growth rate (CAGR) of 6.5% to $264.7 billion by 2030. 
12 Best Agriculture Stocks to Buy Now
Here's a list of 12 agriculture stocks to invest in if you're looking to gain exposure in the sector. This list is not a ranking or in any particular order. Further information about each company can be found by typing in the stock symbol in the search bar at MarketBeat.com. 
1. Archer-Daniels-Midland Co. (NYSE: ADM)

Archer-Daniels-Midland Co. (NYSE: ADM) is a pure-play global agricultural products company. It's one of the largest processors of agricultural commodities, including grains, seeds, and oils. While the company doesn't farm the commodities, it procures them and processes them into a wide range of food and industrial products. It processes corn for products ranging from sweeteners to starches and ethanol. It processes oilseeds like soybeans, sunflower, and canola into vegetable oils, animal feed, and various industrial products. They also process wheat for flour, bakery, and wheat-based food products. Industrial products range from resins and polymers to industrial starches. ADM stock has a five-year performance of 79.3%.

Deere & Company (NYSE: DE) is a worldwide manufacturer of agricultural equipment and machinery such as its well-known green and yellow tractors. Its portfolio of products helps farmers be more effective in cultivating their harvests. Their portfolio includes harvesters, bailers, planters, seeders, tractors, and mowers. The company also makes diesel engines, transmissions, and powertrains for its machines and other manufacturers and aftermarket parts for them. The company is growing its Agtech presence in the precision farming segment with its GPS guidance systems, telematics, and farm data management software. Its precision farming products enable farmers to collect data, swiftly analyze and make better decisions to prep, plant, apply and harvest crops. DE stock has a five-year performance of 156%.
3. Tractor Supply Company (NASDAQ: TSCO)

Tractor Supply Company (NASDAQ: TSCO) is the farmer's superstore and the largest rural U.S. lifestyle retailer. The stores carry merchandise and machinery, including John Deere tractors to seeds and fertilizers. It supplies farmers with the tools and equipment needed in bulk to plant and harvest crops and feed their livestock. The company sells hardware, apparel, power equipment, home goods and outdoor living equipment.
This one-stop shop for all things rural was founded in 1938 and operated over 2,000 retail stores under the Tractor Supply Company, Orscheln Farm and Home and Petsense names. TSCO stock has a five-year performance of 298%.
4. The Mosaic Company (NYSE: MOS)

The Mosaic Company (NYSE: MOS) is a global producer of phosphate of potash crop nutrients (fertilizers) for the agriculture sector. The company also supplies fertilizers and animal feed ingredients to help bolster crop output and animal nutrition. Mosaic operates a broad supply chain network of warehouses, production facilities and distribution centers providing transportation services and logistics support for their deliveries to customers worldwide. MOS stock has a five-year performance of 89.2%. 
5. Bunge Limited (NYSE: BG)

Bunge Limited (NYSE: BG) sells supplies, processes and transports agricultural commodities. It trades and processes grains through its mills, including wheat, barley and corn. Similarly to Archer Daniels, it processes oilseeds, including canola, sunflower and soybeans, to extract vegetable, sunflower, canola, and soybean edible oils and proteins. It also produces and supplies fertilizer and biofuels. It operates a global supply chain comprising facilities, mills, plants and distribution centers worldwide. BG stock has a five-year performance of 26%.
6. AGCO Corporation (NASDAQ: AGCO)

AGCO Corporation (NASDAQ: AGCO) is a global manufacturer of agriculture equipment and parts. They make a wide range of tractors for lawn care, planting, harvesting and materials handling. Their equipment portfolio includes spreaders and sprayers for large-scale application of herbicides, treatments, and fertilizer on nutrients. They make farm equipment for lifecycle crop cultivation from planters, seeders, and plows, along with parts and service maintenance. The company is growing its Agtech footprint with precision farming tools including GPS, sensors, and analytics to better estimate yields and improve production output. AGCO stock's five-year performance is 102%.
7. CF Industries Holdings Inc. (NYSE: CF)

CF Industries Holdings Inc. (NYSE: CF) is a fertilizer company that produces low-cost nitrogen fertilizers and farming products. Some of its types of fertilizers include granular and prilled urea, liquid urea ammonium nitrate (UAN) solutions, nitric acid and ammonia. The company also makes diesel exhaust fuel (DEF), a urea-based solution to reduce diesel engine nitrous oxide emissions. It has facilities in the U.S. and the U.K. CF stock has a five-year performance of 98%.
8. FMC Corp. (NYSE: FMC)

FMC Corp. (NYSE: FMC) is an agriculture science company that develops crop protection solutions, fertilizers, plant health solutions, insect control, and precision farming products. Its products are geared towards helping farmers better grow, protect, and harvest their crops. Its plant health solutions include seed treatment, nutrient management, and bio-stimulants to enhance crop health and yields. It promotes precision farming with its technologies in crop protection and productivity and pest management solutions. FMC stock has a five-year performance of 76.2%.
9. AppHarvest Inc. (NASDAQ: APPH)

AppHarvest Inc. (NASDAQ: APPH) is an Adtech company that specializes in developing, constructing and operating environment-controlled high-tech indoor farms at scale. Its vision is to revolutionize the agricultural industry with sustainable and efficient massive indoor farms that supply fresh fruits and vegetables in an eco-friendly manner. The controlled environment dramatically reduces the need for pesticides.
The recirculating of water through its facilities enables a reduction of water consumption by up to 90%. AppHarvest prefers to locate its indoor farms near metropolitan areas to keep the travel distance to the end consumer at a minimum. This is a high-risk speculative stock with multi-bagger potential but also the potential to go bankrupt. APPH stock has a one-year performance down (89%).
10. Weyerhaeuser Co. (NYSE: WY)

Weyerhaeuser Co. (NYSE: WY) is one of the largest timber producers in the world. It owns and manages millions of acres of timberland throughout the U.S. and Canada. They own and cultivate the land by planting, growing, and harvesting trees. The company converts raw timber into wood products like lumber, l-joists, laminated veneer lumber, plywood and oriented strand brand for housing and construction companies. They also manage and sell their real estate to developers, leasing their land to solar and wind energy companies. A residential real estate boom often sends higher shares on rising lumber costs. WY stock has a five-year performance down (12.5%). 
11. Tyson Foods Inc. (NYSE: TSN)

Tyson Foods Inc. (NYSE: TSN) is one of the planet's largest meat processors specializing in poultry, pork and beef products. It raises and processes live chickens, cattle and hogs throughout its farms and processing plants in the U.S. Food inflation drives up meat prices, resulting in more substantial margins for the company. It has a prepared foods segment that markets and distributes prepared meals that are frozen or refrigerated under familiar brand names Jimmy Dean, Hillshire Farms, Ball Park and Tyson. The company is also growing its plant-based and blended protein business to accommodate macro trends toward sustainable meat substitute products. TSN stock five-year performance is down (13.5%). 
12. Philip Morris International Inc. (NYSE: PM)

Philip Morris International Inc. (NYSE: PM) is one of the world's largest tobacco companies producing various types of cigarettes and tobacco products. It owns well-known cigarette brands like Marlboro, Chesterfield, Parliament and L&M. The company is migrating to smokeless and heated tobacco, e-cigarette and vapor products. It also sells oral nicotine products, from gums to lozenges and pouches. Shares of PM have a five-year performance down (3.5%).
Consider the Agricultural Technology Trend
These 12 agriculture stocks have overlapping and complementary products and services. One of the growing trends in farming is the use of Agtech to enhance precision farming. As the name says, precision farming uses technology to prepare better, manage, predict and improve crop harvests. It involves hardware in sensors, connected devices, computers, and software powered by artificial intelligence (AI) and Internet of Things (IoT) platforms and data-driven solutions. It enables farmers to collect, analyze and effectively manage their operations to save costs while boosting productivity. Better decision-making is the end product as the growing need for sustainable food continues to grow. Some of the best agricultural stocks are also invested in the Agtech segment.
FAQs
Here are some answers to the most commonly frequently asked questions.
What is the best agriculture stock to invest in?
The best agriculture stock to buy now depends on your investment goals, risk tolerance and investing time horizon. While the largest agriculture stocks have a long history of stable dividends and rising stock prices, they may be too conservative for growth investors comfortable in Agtech stocks for bigger and quicker potential upside.
Can you buy stocks in agriculture?
Yes, agriculture stocks can be bought and sold on the stock market. Investors can also consider buying agriculture ETFs, with professional money managers managing a portfolio of agriculture stocks. The ETF route is a good option for investors who can only dedicate a little time to finding and researching agriculture stocks independently. 
What are the biggest agriculture companies?
There are many segments within the agriculture sector, each with major companies in them. The biggest agriculture companies usually either process the crops, manufacture the tools and machinery, or sell fertilizers and nutrients to improve crop performance. Three of the leaders' stocks are ADM in processing, DE in machinery, and MOS in fertilizers.