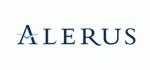 GRAND FORKS, ND -- (Marketwired) -- 04/17/15 -- Alerus Financial Corporation (OTCQX: ALRS) has announced major changes to its branding and identity to align with customer expectations and the company's service structure. The company has changed its logo and branding from "Alerus Financial" to "Alerus" to better reflect their customer advocate structure of One Alerus. This service philosophy is designed to provide customers a seamless connection to services and advice they need in the areas of banking, mortgage, retirement, and wealth management through one point of contact.
"The need to constantly adapt our business practices to meet customer expectations is one of the most challenging -- and most rewarding -- aspects of what we do," said Alerus president and CEO Randy Newman. "Our customers have driven our evolvement to serving as a trusted advisor on multiple aspects of their financial well-being -- whether that is in banking, mortgage, retirement or wealth management. Our new initiatives, especially our brand identity and a single advisor opening doors to multiple financial services, reflect that transformation."
The Grand Forks-based company has grown and evolved from a single North Dakota bank to a broad-based professional financial services firm with locations in Arizona, Minnesota, Michigan, and New Hampshire. The company's branding change comes after a period of growth and expansion, culminating with three acquisitions in 2014. In February of 2015, the company became the 50th bank to trade on the OTCQX marketplace, an investor-focused marketplace for companies that meet stringent requirements, including high financial standards, strong capitalization, and regular distribution of financial and company information.
Along with a modernized identity, the company has unveiled a number of technology-based initiatives designed to improve the customer experience for both personal and business finances. These include an updated online banking system for individual customers, a recently upgraded online system for business customers and a redesigned website, www.alerus.com, featuring a much-improved user interface.
"We believe this branding change clarifies our identity within our current customers and markets and will carry us forward as we continue to grow." added Newman. "We continue to take the steps and make the investments needed to provide an outstanding customer experience to all, whether they visit a branch, call us or engage with us digitally."
About Alerus Financial Corporation
Alerus Financial Corporation ("Alerus"), through its subsidiaries Alerus Financial, N.A., Alerus Securities Corporation, and Alerus Investment Advisors, Inc., offers business and consumer banking products and services, residential mortgage financing, employer-sponsored retirement plan administration, and wealth management including trust, brokerage, insurance, and asset management. Alerus banking and wealth management offices are located in Grand Forks and Fargo, North Dakota, the Minneapolis-St.Paul, Minnesota metropolitan area, and Scottsdale, Arizona. Alerus Retirement Solutions plan administration offices are located in St. Paul, Minnesota, East Lansing and Troy, Michigan, and Manchester, New Hampshire.
Image Available: http://www2.marketwire.com/mw/frame_mw?attachid=2805323