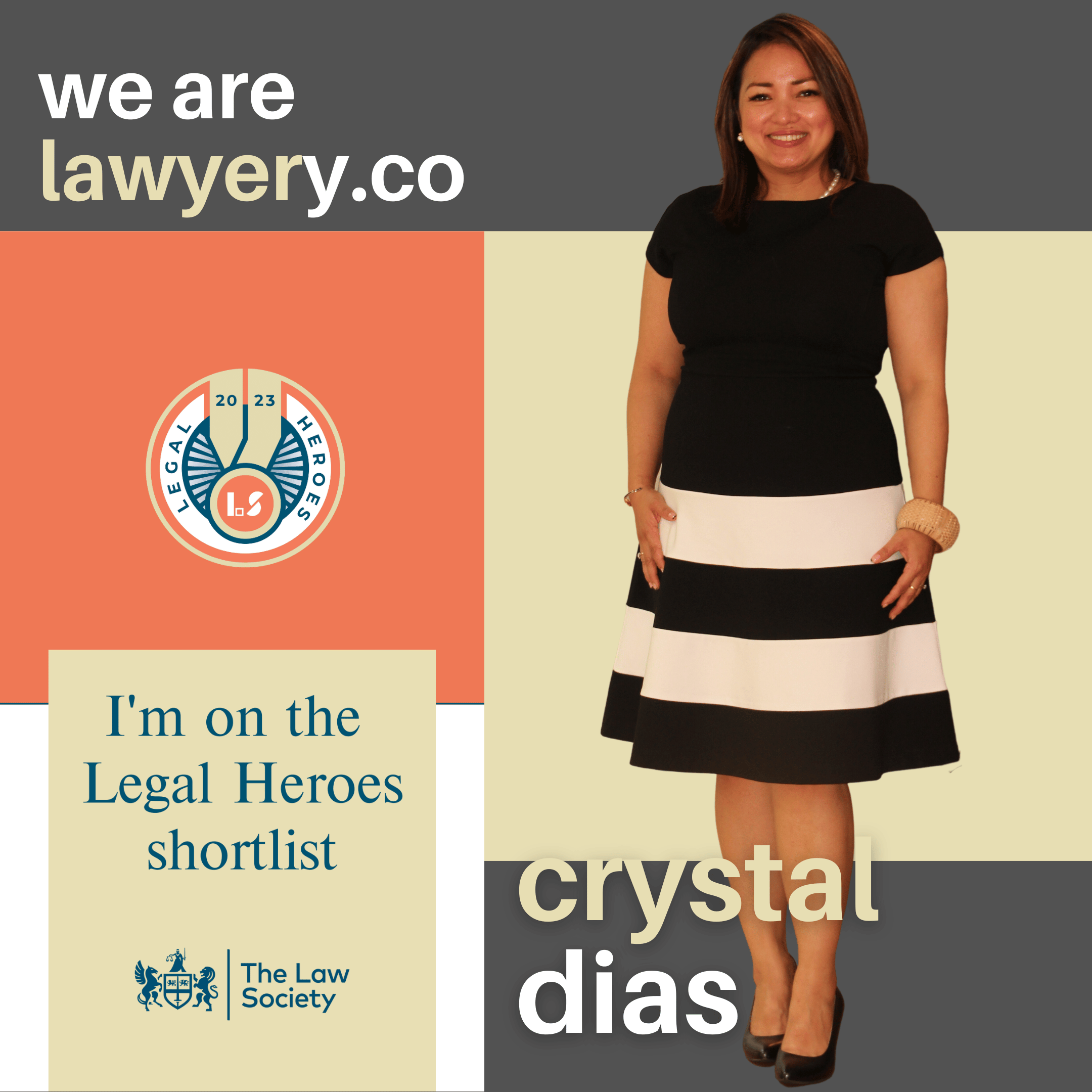 Being named as a Legal Hero is a rare honour reserved for the most impactful and inspiring solicitors – only a small number will be recognised each year.
London, United Kingdom Sep 6, 2023 (Issuewire.com) - Lawyery is proud to announce that our co-Founder, Crystal Dias, has been selected as one of the 26 solicitors on the Legal Heroes shortlist by The Law Society of England and Wales.
https://www.lawsociety.org.uk/campaigns/legal-heroes/legal-heroes-shortlist
Legal Hero is an opportunity to recognise the solicitors who have made the biggest difference in the lives of others, their local communities, and society. We're proud to announce a shortlist of those who have made a lasting and tangible impact and brought distinction to the profession.
Being named a Legal Hero is a rare honour reserved for the most impactful and inspiring solicitors - only a small number will be recognised each year.
Legal Heroes are solicitors who, through a particular piece of work, have:
- made a demonstrative, lasting, and tangible difference to the life or lives of others, their local community, or society as a whole- brought distinction to the legal profession
Some examples could be someone who:
- identified a need in their wider community and took the initiative to create solutions or support - for example, setting up a legal advice centre, a shelter, or a campaign group in support of a local cause
- established colleague networks on diversity, inclusion, or mental health and was recognised within their place of work as inspiring change and delivering positive support
- took forward and developed a new area of law or legal rights to support and protect a vulnerable community, undertaking work to right a miscarriage of justice
- raised significant money for important legal-related causes- has a track record of volunteering and making a difference within their community. For this work, the individual must have demonstrated the values at the heart of the profession:
- helping others in need
- putting the interest of others first
- outstanding leadership
- Strong and consistent teamwork
Crystal is a legal professional who has made a significant contribution to the legal profession, particularly in the areas of immigration and family law. She is the co-founder of Lawyery, a legal firm based in London that offers services to the Filipino community and vulnerable clients. Through Lawyery and previously through Dias Solicitors Crystal has centred her practice on working with the Filipino community to advocate for migrant and women's rights. She receives clients through her network of contacts, including the Philippine Embassy in London and local and national community groups, helping her clients in immigration and family law matters including children, victims of domestic abuse, and trafficked women.
In addition to her work with Lawyery, Crystal has also made significant contributions to the Filipino community in the UK. She works as a legal advisor with Kanlungan, a Filipino community organisation that helps victims of human trafficking and domestic abuse. She is serving as the European legal advisor for ENFID (European Network of Filipino Diaspora) and as Vice Chair of the Filipino Women's Association, both of which strive to empower Filipino migrants, and in the case of FWA, Filipino women in the UK. This year, for International Women's Day, Crystal was the moderator of an event on 7th March 2023 entitled "Constructing the Filipino Woman in Britain: Towards Agency and Empowerment" held at SOAS (School of Oriental and African Studies, University of London), and in collaboration with the SOAS Philippine Studies Department, the FWA, and Kanlungan.
Crystal was instrumental in launching the Juan Eu Konek Mentorship programme in 2022, which offers young women help with their personal and career development. The programme focuses on enabling entry to the legal and media professions for young Filipino women from the UK diaspora. As a mentor for the programme, Crystal oversees that the mentees begin their path into the professional world with a solid foundation of knowledge in Media and Law. Currently, the programme has three women mentees receiving guidance from Crystal. They are also working for Lawyery to maximise their potential as future lawyers.
Crystal has stated: 
"I am deeply honored to announce that I have been shortlisted as one of the Legal Heroes of 2023 by the Law Society. While I never sought recognition for my work, I am humbled by this acknowledgment. My journey in the legal field has led me to a profound realisation of my purpose - to serve and uplift the Filipino community in the UK, with a special focus on women, children, and the vulnerable. This nomination reaffirms my commitment to making a meaningful difference in their lives, and I am grateful for the opportunity to pursue this purpose through my profession."
Law Society President Lubna Shuja has said:
"Congratulations to all our nominees. It has been inspiring to read so many entries which all showed the fantastic work done by many of our members. They are a testament to the profession.
"We are proud to announce a shortlist of amazing solicitors who have consistently gone above and beyond to make a lasting impact on colleagues and communities."
The Legal Heroes ceremony will be held on Thursday 7th September 2023, where the winners will be announced by Law Society President Lubna Shuja.
Media Contact
Lawyery
02035761275
3 Waterhouse Square, 138-142 Holborn
Source :Lawyery Limited
This article was originally published by IssueWire. Read the original article here.