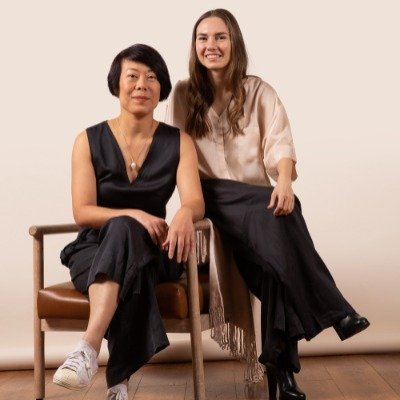 Phoebe Yu and Kat Dey discuss why CleanBamboo® fabrics are better for the world. 
Listen to the interview on the Business Innovators Radio Network:
https://businessinnovatorsradio.com/interview-with-phoebe-yu-and-kat-dey-co-founders-of-ettitude/
Bamboo is a sustainable, renewable resource that can be used in various ways. Its use helps conserve water and energy, reduce carbon dioxide emissions, and promote soil conservation. It is fast-growing, low-maintenance, and abundant, making it an ideal choice for many products. Additionally, bamboo does not require pesticides or fertilizers during its cultivation process.
ettitude's patented CleanBamboo® fabrics are made using the lyocell process. Unlike the viscose/rayon/modal processing of bamboo which requires harsh chemicals, such as caustic soda, lyocell uses a gentle organic solvent in a closed-loop process, recycling water and solvents up to 200x. As a result, the finished textiles are much healthier and more sustainable than conventional fabrics, such as bamboo viscose/rayon/modal, cotton, and silk. A 3rd party LifeCycle Assessment quantified that CleanBamboo saves 58% of water, 22% of CO2, 42% of Fossil Fuels and avoids 42% of eutrophication even when compared to tree-based lyocell (Tencel

), one of the most sustainable materials today.
ettitude takes sourcing a step further, with its Tier 5 transparency, by ensuring that no deforestation or exploitation of land occurs in the harvesting process. Their bamboo is Canopy Hot Button approved, 100% grown with rainwater, EcoCert-certified organic, and FSC-cerfied.
Phoebe Yu explained "ettitude is a fabric innovation company and a lifestyle brand making the world's softest, most sustainable, luxury materials with our patented and carbon-neutral CleanBamboo® fibers. CleanBamboo is a lyocell made from bamboo and uses absolutely zero toxic chemicals in the process, unlike all other bamboo fabrics on the market made using viscose or rayon technology. Sustainability is no longer enough, brands must take responsibility to use regenerative resources."
 Kat Dey added: "ettitude's materials are not only sustainable, they are functionally superior to conventional fabrics. They are proven to be 24% better at moisture-wicking, 17% more cooling, 51% more durable and have 17% better surface appearance after aging. Using these materials makes an overall better quality finished product that is healthier for you, your family, and the earth."  
ettitude applied their fiber and textile technology to the home goods market, making bedding, comforters, towels, and "vegan cashmere" throw blankets which are sold via their website www.ettitude.com.
Client Kayleigh G. says: "These sheets are such a dream! If you're on the fence, just do it. They're so soft and comfortable and they regulate temperature SO well. My partner and I have been searching for sheets and for a long time we were convinced it was our pillows that were disrupting our sleep but after sleeping on these sheets the past week or so, we're convinced it was just our old sheets causing our sleep problems."
The company just released its 2022 Impact Report, which stated that it in the last year alone ettitude saved 1,720,545 kg of CO2, and 633,452 m3 of water.
To grow its positive impact further, ettitude is now also partnering with apparel brands by supplying its patented materials to be used in their lines via ettitude's B2B arm FutureFiberLab.
About Phoebe Yu and Kat Dey
 Phoebe Yu and Kat Dey are the co-founders of ettitude, an award-winning next-gen materials company innovating eco-textiles to fight climate change.
While running two global textile companies, Phoebe Yu realized that textiles is the #2 most polluting industry in the world, and contributes 10% of global CO2 emissions. With her vision of revolutionizing the textile industry, she spent years on research & development, testing materials, weaving and dying techniques to finally perfect and launch ettitude's innovative CleanBamboo® fabric in 2014. The CleanBamboo® lyocell manufacturing process is a clean alternative to the chemical- and resource-intensive viscose, cotton, silk and cashmere.
Phoebe applied this new technology to the home goods market and launched ettitude's signature bedding line made with CleanBamboo®.
Kat Dey, a serial entrepreneur and executive, named one of "35 People to Watch", met Phoebe online. Prior to ettitude, Dey had a decade of experience scaling mission-driven brands and was on the hunt for "the next big thing". After sleeping on ettitude sheets and "having the best sleep of her life", Kat decided to join ettitude as cofounder in 2018 to help scale the company.
The brand grew, and customers asked for more products made from ettitude's patented non-toxic, buttery soft, breathable and moisture-wicking fabrics. Today, ettitude designs and manufactures bedding, towels, apparel and accessories.
ettitude was named an Inc. 5000 fastest-growing private company in America in both 2020 & 2021, and won the prestigious Real Leaders 2022 Impact Awards (alongside Tesla and Patagonia) and was listed #22 in the 2022 MO Summit's Impact List.
ettitude is a certified B Corp, Climate Neutral, and member of 1% For The Planet.
Learn More: https://www.ettitude.com/