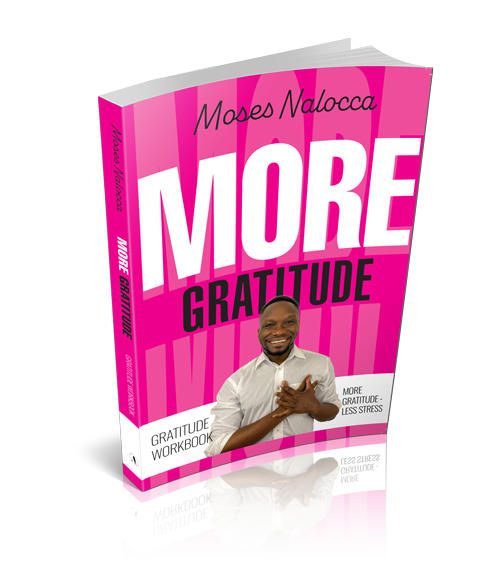 High-performance coach and public speaker Moses Nalocca has released a new book designed to help readers change their lives for the better using gratitude.
Moses believes that being thankful and focusing on the positive things in life is a key element to achieving real success. His new book, MORE GRATITUDE, which came out on Tuesday, May 9, encourages readers to write down the moments in their life that they feel grateful for so they can look back at it in moments where they need strength and inspiration.
The 39-year-old, from London, published his first book, a memoir called More! – Become More – Give More, in February this year and the two titles are designed to be used together. The first book shares the story of Moses' life and how he became driven to helping top athletes, c-suite executives and business owners strive to be the very best in their fields.
Moses said: "Gratitude is all about pausing to notice and appreciate the things that we often take for granted, like the people around us, having a place to live, food, clean water, friends, family, and a purpose to live by. When you focus on what you are grateful for, you vibrate on a higher frequency and you will be surprised at the results you can achieve."
"If you are grateful, you can't be angry or anxious. For me, gratitude is an attitude of grace."
MORE GRATITUDE is a workbook, which combines the elements of a gratitude journal with a written guide which includes stories from Moses' own personal journey and practical exercises to complete.
The founder of the Upper Echelon Coaching Academy, Moses is on a mission to train 1,000 new coaches and trainers by 2025. He has worked with some of the world's most famous and admired figures in business and self-actualization, including Tony Robbins, Robert Kiyosaki, and Gary Vaynerchuk.
He is also the man credited with breaking Bulgaria's Olympic medal curse when he worked with Ivet Goranova, helping her shift her identity from an athlete with mediocre results to a gold-winning karate champion in 2021.
Moses added: "MORE GRATITUDE can be used to capture all of life's special moments and gifts. In the future, when you may be feeling less strong and in need of inspiration, you can refer back to it, regain your strength and remember what a wonderful world we live in."
MORE GRATITUDE will be available as a limited edition hardback from www.mosesnalocca.com from Tuesday, May 16 before being released in paperback on Amazon and in selected bookstores on Wednesday, May 31.