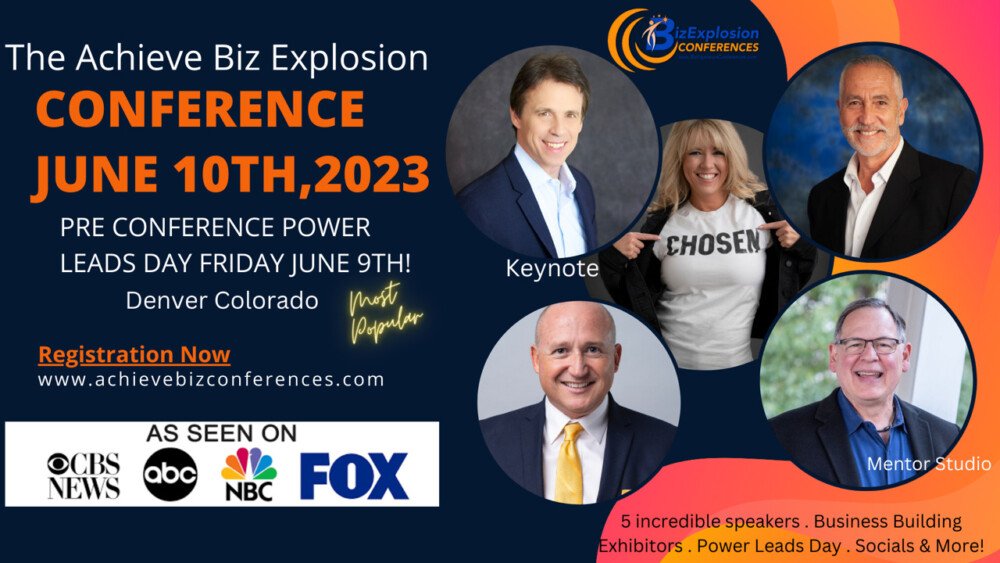 Achieve Systems CEO, Robert Raymond, announced that the Achieve "Biz Explosion" Conference for the summer of 2023 will be held on Friday, June 9th and Saturday, June 10th.
The summer conference will take place at the Best Western Premiere Hotel at 4411 Peoria Street, Denver, Colorado 80239. This conference will be emceed by Kirk Samuels.
The schedule for this business building conference is as follows:
Thursday, June 8th at 5:30 pm – Welcome Happy Hour Reception
Friday, June 9th from 9 am – 5 pm – Strategic Partnership 
Building
Saturday, June 10th from 9 am – 5 pm – Main Event
Biz Explosion Conference
Saturday, June 10th at 5:00 pm -After Party
This conference features five powerful workshops, and attendees will be able to uplevel their business through speaking, networking and growing their community, leadership and getting referrals.
"At Achieve Conferences, our mission is to provide entrepreneurs with the support, guidance, and tools they need to create a successful business," said Founder and CEO, Robert Raymond.
The theme for this event is "Rock your Business". Achieve Systems is offering a complimentary VIP ticket valued at$497. Interested parties can get their VIP complementary ticket by registering at: www.achievebizconferences.com
Achieve Systems' very popular Pre-Conference Event "Develop Strategic Partnerships & Referral Relationships Creating Powerful Leads" will take place on Friday, June 9th. 
"This day is a business owners dream. Attendees can join us at our award-winning day where we help them create meaningful relationships that lead to referrals and power partners. This is a business acceleration event for small business owners and entrepreneurs. We will provide them with several strategic relationships with professionals who can help them grow their business and even hand them referrals right on the spot. Developing power partners is the key to growing almost any business. Today they will not just learn how but will have many possible relationships set up for meetings before they even walk in the door." Raymond commented.
"The main event is on Saturday where we have our amazing Keynote speaker who will be focusing on boosting your brand and business simultaneously followed by 5 other high-level speakers. We have 50+ vendors and business owners for you to connect with and create win-win opportunities." Robert added.
On Saturday, June 10th, the Biz Explosion conference also features a line-up of professional public speakers chosen to provide unmatched value to the attendees. These speakers include:
Featured Keynote Speaker Chris Salem – Boost your Brand and Business
Simultaneously, 10:00AM – 11:15AM
Brandon Barnum – Raving Referrals for Business Success,
11:30AM – 12:30PM  
Ashlee Fay Branstetter – How to Effectively Use Relationships to Scale, 2:00PM – 3:00PM 
Gary De Rodriguez – Deep Leadership, 3:05PM-400PM 
Christopher Gandy – Building a Legacy, 4:00PM – 4:45PM  
Cathy Reilly, Achieve Speaker Pro Leader – 5 Powerful Ways to have your voice be heard and implement the incredible information from today's conference, 4:45PM – 5:00PM
"We provide business owners with the most powerful tools needed including leads, a built-in community, a world class coaching system, biz building conferences, marketing systems, preferred vendors, business partnerships and revenue streams to help uplevel their business." Raymond concluded.
For more info about Achieve Systems' Biz Explosion Conference and for registration visit: achievebizconferences.com
For more info about Achieve Systems membership visit: https://www.achievesystemspro.com/