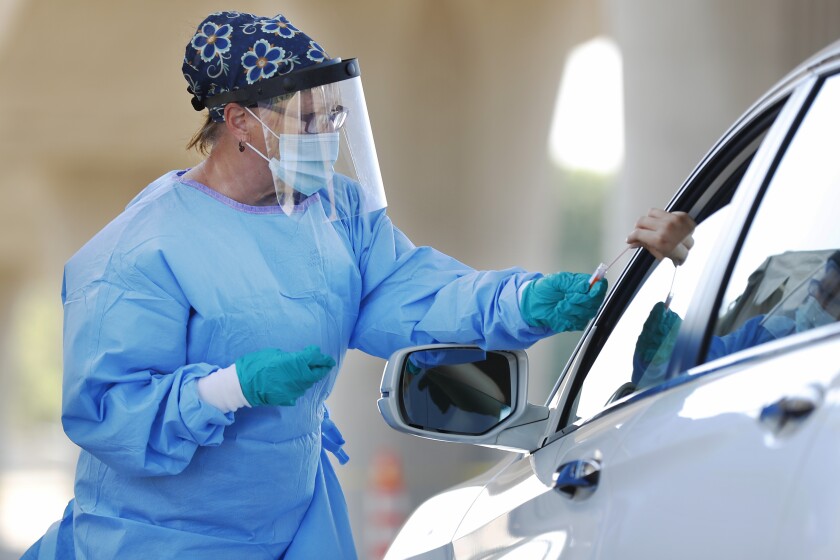 Supervisors are told that 180,000 people have lost their jobs here
Together, the Silverado and Blue Ridge fires have consumed more than 27,000 acres, but destruction to property has been relatively light.
The poll, released Tuesday, shows a reversal of fate for Campa-Najjar who went from polling neck-and-neck with Issa to now trailing by 11 percentage points
Mary Scott, 23, died in 1969. Forensic genealogy led police to arrest 75-year-old John Sipos of Pennsylvania
Home prices increased at a level not seen in two years
Officers chased a stolen vehicle just after 11 p.m. from Sherman Heights to Mount Hope; three people died when the vehicle crashed on Market Street near Raven Street

Authorities say the thief wheeled in a gurney with an empty body bag, and wheeled out the bag full of stolen goods

Jordan Tyler Bucklew, 34, pleaded guilty to a felony count of unlawful sexual intercourse with a 17-year-old student at Coronado High School

Miguel Venegas, 35, allegedly used a bow and arrow to kill Josue Cameron on Oct. 19 in National City

Gore says keeping Barnett as retired annuitant during search for successor will help ensure seamless transition
Javier Alvarado and Matthew Leyba-Gonzalez both work for the same labor union. Both are being criticized for receiving tens of thousands from LiUNA.
Tuesday, Oct. 27
1:30 p.m. | San Diego News Fix
Reporter Rob Nikolewski will discuss how the two domes will be removed at the San Onofre Nuclear Generating Station.
Get Essential San Diego, weekday mornings
Get a special coronavirus news summary from the Union-Tribune in your inbox weekday mornings along with other top news headlines.
You may occasionally receive promotional content from the San Diego Union-Tribune.
PHENOMENAL WOMEN
Fifth in a series: A project marking the 100th anniversary of the 19th Amendment
Racial Justice Commentary
A diversity of views and perspectives
The Community Voices Project is a forum for respectful discourse about news of the day and matters of the community that brings dozens of thought leaders together in a public dialogue, which can be a model for others.
Trade agreements can be as powerful as military force for achieving a country's strategic objectives.

Freedom allows us to make up our own minds about world, national and local issues.
A look at the business decisions ahead of the Padres as the offseason gets underway
VIDEO | 31:37
ImmunityBio CEO Dr. Patrick Soon-Shiong discusses the company's upcoming COVID-19 vaccine trial
The Food and Drug Administration has cleared ImmunityBio to begin testing an experimental COVID-19 vaccine in clinical trials, according to an announcement issued Thursday by the Southern California biotech.
VIDEO | 09:40
Returned: What happens when the asylum system doesn't protect someone in danger
"Returned" is a multi-part series launched by the Union-Tribune this year that investigates the U.S. asylum system.
Brawley doctor details the grueling path back to life after 52 days spent on life-saving machine.
324 U.S. citizens are missing in Mexico, according to Mexico federal numbers
What's at stake when asylum is denied? After deportation, many Central Americans are killed by the people they fled.
For Central American migrants fleeing gang violence, winning protection in the United States can be particularly difficult
Immigration reporter Kate Morrissey shares experiences from her trip to San Pedro Sula for the third installment in a series on the U.S. asylum system
"Returned" is a multi-part series launched by the Union-Tribune this year that investigates the U.S. asylum system.
Blue Star Learning used fake students and graduates to fraudulently obtain millions in G.I. Bill funding over three years
Sgt. Tristan King's social media photos have been stolen and used by others to open fraudulent accounts using his name
Eight Marines and a sailor died when their assault amphibious vehicle sank off San Clemente Island July 30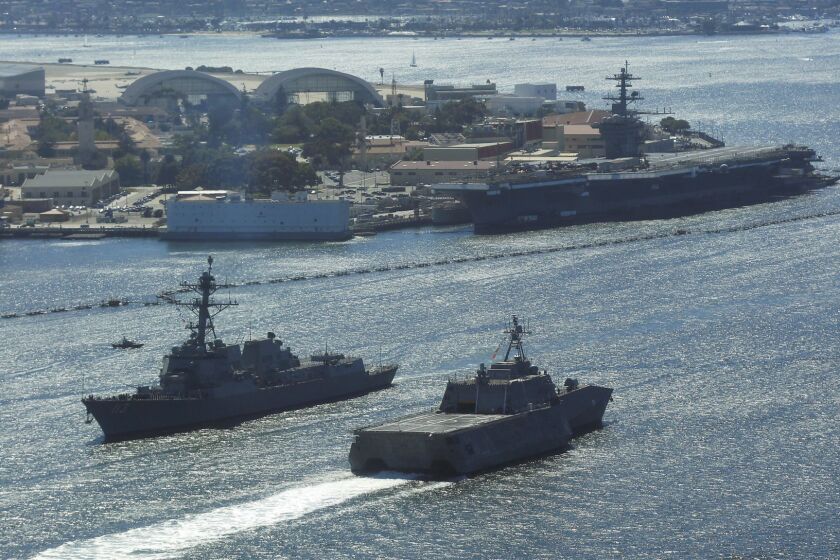 The report found increases in spending and jobs in the defense sector has helped stabilize the local economy
Sign up to get Breaking News email alerts
Get alerts on severe weather, road closures and other major breaking news.
You may occasionally receive promotional content from the San Diego Union-Tribune.