The 11-month venture protected homeless people during pandemic and connected more than 1,000 with housing opportunities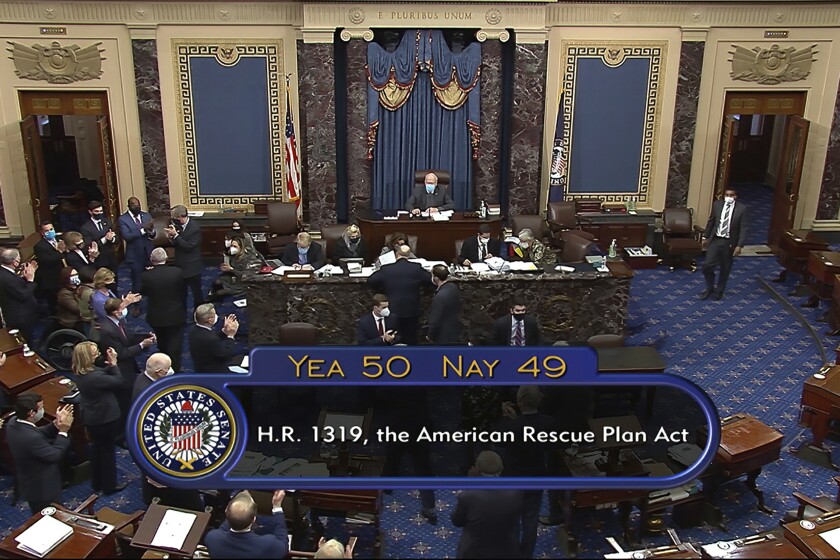 An exhausted Senate has narrowly approved a $1.9 trillion COVID-19 relief bill
Families will be held in detention centers in Texas for up to three days before being released, court filing says
Allegations in her San Diego Superior Court suit include misappropriation of her name and likeness, and invading privacy in a false light.
All residents and staff have now received their first and second doses
During his visit to Baja California in December, Mexico's top human rights official promised the state a DNA lab. So far, no progress has been made.
Authorities initially believed 10 farm animals were slain by a human, but now say it was likely the work of a large predator, possibly a mountain lion

Zachary Vesper-Gralnic, 30, was found dead in an apartment several hours after he was injured Tuesday in fight at Park De La Cruz skate park

Rep. Sara Jacobs and other delegates said money will go to small businesses, restaurants, vaccine production, COVID-19 testing and more

The incident happened during an argument outside El Cajon on Friday afternoon

Vice President Kamala Harris emerges as the focal point of the White House's intraparty tussle over minimum wage. How she handles this first tussle will be telling.

Pursuit started outside Escondido, chase called off after reaching 95 mph on freeway

Police say fleeing man dropped backpack. Inside, they found meth, heroin, fentanyl, and marijuana

Authorities said a vehicle crashed off Interstate 5 and landed in Tecolote Creek near Sea World Drive; medics took one patient in CPR status
Mission Valley edifice played huge role in city history, but too often was torture chamber for so many fans
Get Essential San Diego, weekday mornings
Get a special coronavirus news summary from the Union-Tribune in your inbox weekday mornings along with other top news headlines.
You may occasionally receive promotional content from the San Diego Union-Tribune.
To help local businesses and workers recover from the economic impact of the COVID-19 pandemic, the Union-Tribune invites you to list your business free of charge.
Monarch butterfly populations are endangered, to the point that the 1.2 million Western monarchs counted in 1997 plummeted to fewer than 2,000 by 2020. Here are ways we can help them survive

Sandra Scheller is curator of the "RUTH: Remember Us The Holocaust" exhibit in Chula Vista, which is named for her mother and focused on the stories of Holocaust survivors who live in southern San Diego County
sbr030721_color_pork_spending.jpg
()
sbr_ec_030621_decibel.jpg
()
sbr_cc_030521_credit_card.jpg
()
sbr_ec_030321_batman.gif
()
See more editorial cartoons from Steve Breen here.
Racial Justice Commentary
Fred Korematsu fought against the the forced removal and incarceration of 120,000 Japanese and Japanese Americans during World War II. His name should be more widely known.

Gov. Hiram Johnson brought direct democracy to California. He came into office proposing three major populist changes — the initiative, the referendum and the recall.
Holtville, CA - March 02: On Tuesday, March 2, 2021 in Holtville, CA., law enforcement investigator look over the SUV after tow wreckers separated it from the large tractor trailer. The accident was the scene of a deadly crash on State Highway115 near the U.S.-Mexico border. The crash Tuesday morning left at least 13 people dead and several others injured. (Nelvin C. Cepeda / The San Diego Union-Tribune)
(Nelvin C. Cepeda/The San Diego Union-Tribune)
Beach walkers Mark Estle, left, and Paul Tibbetts pause to look at a section of coastal bluff which collapsed in Del Mar sometime late Saturday night or early Sunday morning. photo by Bill Wechter
()
February 27, 2021, Carlsbad, California_USA_| Cal Fire engineer/paramedic Jon Gerstenberg prepares to inject farm worker Ceferino Manzoh with the Moderna Covid-19 vaccine at the Carlsbad Strawberry Company farm. |_Photo Credit: Photo by Charlie Neuman
(Charlie Neuman/Photo by Charlie Neuman)
Rodney McGough, 52, who is homeless, is one of thirteen people who are living in tents alongside a stretch of S. Oceanside Blvd. in Oceanside. What once was an area full of trash left by homeless people is clean now because the people there are picking up litter and have a place to store their belongings. Rodney McGough is the one who brought order to the place. N photo by Don Boomer
(Don Boomer/Don Boomer)
San Diego State forward Matt Mitchell (11) fights for the ball with Boise State forward Abu Kigab (24) during the second half of an NCCA college basketball game Thursday, Feb. 25, 2021 in San Diego. (Photo by Denis Poroy)
(Denis Poroy)
SAN DIEGO, CA - FEBRUARY 23: Parents and students rally to reopen schools outside the SDUSD Board of Education Headquarters on Tuesday, Feb. 23, 2021 in San Diego, CA. (Eduardo Contreras / The San Diego Union-Tribune)
(Eduardo Contreras/The San Diego Union-Tribune)
CARLSBAD, CA - FEBRUARY 24: Crews work in the Ranunculus fields at the Flower Fields on Wednesday, Feb. 24, 2021 in Carlsbad, CA. After spending the 2020 season closed, preparations are underway to provide safe social distancing, as the attraction gets ready for a March 1st reopening. (Eduardo Contreras / The San Diego Union-Tribune)
(Eduardo Contreras/The San Diego Union-Tribune)
SAN DIEGO, CA - FEBRUARY 25: The moment Lt. Col. Anthony Koehl learns he has an 11 month old puppy named Apollo on Thursday, Feb. 25, 2021 in San Diego, CA. The F/A-18 pilot is welcomed home from deployment by his step son Yhatti, 17, his wife Rosy and his daughter Izabella, 12. (Jarrod Valliere / The San Diego Union-Tribune)
(Jarrod Valliere / The San Diego Union-Tribune)
A patch of ice plant, foreground, grows near the base of the bluff at Beacons Beach in Encinitas, Monday, as ice plant, top left, grows thick on the property on the south side of Beacon's Beach. photo by Bill Wechter. photo by Bill Wechter
()
A United States Marine Corp helicopter was forced to set down in the Los Penasquitos Lagoon on Monday afternoon.N photo by Don Boomer
(Don Boomer/Don Boomer)
Images from Union-Tribune staff and contributing freelance photographers
Padres fans happy to see baseball in person in Peoria
Amazon is constructing a 3.4 million square feet warehouse in San Diego County
Local TV broadcaster, who passed away Feb. 27, retired from broadcasting after facing a battery charge in 2008

The 'Black Like Me' singer-songwriter is the first Black female solo artist in history to earn a Grammy nomination in a country-music category
Taurino and Silvia Rivera had four biological sons, and through their ministry at Fe Esperanza Y Amor church, they left behind many more who considered them parents
The five other sailors suffered minor to serious injuries, according to the California Highway Patrol

The Marine was warned in 2019 about sharing racist material online, but investigation began six months later after Union-Tribune asked about him
Through her character in "Raya and the Last Dragon," Tran fights for a better world
The Southern fusion comfort food restaurant owned by the San Diego hospitality company Good Time Design
After an eight-month, pandemic-related delay, the restaurant recently opened the shopping center in Mission Valley
Ballast Point will be hosting an expanded Victory at Sea Days celebration from Feb. 28 through March 7
Sign up to get Breaking News email alerts
Get alerts on severe weather, road closures and other major breaking news.
You may occasionally receive promotional content from the San Diego Union-Tribune.
Games, events and promotions