Sharp and Scripps facilities are taking the brunt of the increase so far
San Diego continues to outperform most of the nation in price acceleration
Carlsbad police said investigators were working on the case around the clock
North Park store has been run by three generations of the Schloss family since 1941. Now, like many others, it's another financial casualty caused by the coronavirus pandemic.
Three Mexican nationals were arrested as part of a long-running investigation into the Sinaloa Cartel
It happened about 9:50 p.m. on north Interstate 805 between Imperial Avenue and Market Street

Authorities said the victim — possibly a teenager — was struck by a white truck on Barona Mesa Road

It happened about 6 p.m. Tuesday outside El Torito Market on Bush Street and San Diego Street, across from Joe Balderrama Park

The blaze was reported shortly after 7 p.m. at condominiums on Amistad Court near Gustavo Street

The U.S. government has agreed temporarily not to deport detained immigrant women who have alleged being abused by a rural Georgia gynecologist

Police say it happened near 25th Street and Imperial Avenue, near the San Diego Police Department's Central Division station
As President-elect Joe Biden started rolling out his administrative team, one voice has been notably silent: Senate Majority Leader Mitch McConnell

Michigan election officials certify Biden's 154,000-vote victory in the state despite Trump's brazen attempts to subvert the results of the election.
Wednesday, Nov. 25
1:30 p.m. | San Diego News Fix
Host Daniel Wheaton talks with Union-Tribune reporters about the biggest stories of the day in our region. San Diego News Fix is also available wherever you get your podcasts.
Get Essential San Diego, weekday mornings
Get a special coronavirus news summary from the Union-Tribune in your inbox weekday mornings along with other top news headlines.
You may occasionally receive promotional content from the San Diego Union-Tribune.
With California desperately battling an out-of-control surge in the coronavirus, the state's health secretary is urging families to avoid gathering for Thanksgiving

A federal judge says California can't ban vanity license plates it considers "offensive to good taste and decency" because that violates freedom of speech

For the past four years, President Donald Trump has enjoyed the special status of a world leader on Twitter and Facebook, even as he used his perch atop the social media pyramid to peddle misinformation and hurl abuse at his critics

Forecasters say fire weather will return to Southern California on Thanksgiving with the onset of Santa Ana winds
Racial Justice Commentary
A diversity of views and perspectives
The Community Voices Project is a forum for respectful discourse about news of the day and matters of the community that brings dozens of thought leaders together in a public dialogue, which can be a model for others.
I am thankful for the gift of health and one more day on this planet because at my age it is a gift.

This Thanksgiving season, I choose to be thankful.

I am grateful for all people of compassion who give to help our neighbors in need.

We found harmony in this wonderful community.
David Higareda (r) and Joel Dapper (l) walk past the corner of Ninth Avenue and G Street in downtown San Diego near a large mural painted by local artist, Carly Ealey. Curfew restriction begins Saturday. The state curfew requires any county in the most restrictive, "purple" tier of the state's reopening system, which includes San Diego, to limit "all gatherings with members of other households and all activities conducted outside the residence, lodging, or temporary accommodation with members of other households."
(Nelvin C. Cepeda/The San Diego Union-Tribune)
On Thursday, Nov. 19, 2020 in San Diego, CA., the evening rush hour traffic on both the northbound and southbound lanes near downtown appeared to be moderate compared to previous days. Thursday afternoon, the California health department announced a "limited stay at home order" designed to limit the spread of infection in the community.
(Nelvin C. Cepeda/The San Diego Union-Tribune)
Exercisers run the stairs at the San Diego Convention Center in the Gaslamp Quarter in downtown San Diego on Thursday, November 19, 2020.
(Sandy Huffaker/For The San Diego Union-Tribune)
Don's Cocktail Lounge bartender Diana Reynolds hustles a bucket of beers to waiting customers in the bar's parking lot in El Cajon. On Tuesday the bar's inside lounge was roped off and closed to customers to meet state regulations that required restaurants and bars to move outdoors due to elevated coronavirus case rates.
(Nelvin C. Cepeda/The San Diego Union-Tribune)
Resident Nurse Stacey Sundling, a public health nurse for the County of San Diego, administers a Covid-19 test for Lyla McGinnis 4, as her mom Melissa looks on holding her son Levi, 10 months, at Cal State University San Marcos, one of the busiest testing centers in San Diego County on Monday, Nov. 16, 2020 in San Marcos, CA.
(K.C. Alfred / The San Diego Union-Tribune)
Demonstrators gather at a rally protesting COVID-19 restrictions at the San Diego County Administration Center on Monday, Nov. 16, 2020.
(Sam Hodgson/The San Diego Union-Tribune)
At Brewing Co in Santee, customers dined on the patio with the added safety measure of a plastic shield between tables. The state's order to cease indoor operations became effective on Saturday as the county enters into the most restrictive purple level of the state's COVID-19 tier.
(Nelvin C. Cepeda/The San Diego Union-Tribune)
A person walks past a liquor store in the shadow of a palm tree in the Normal Heights neighborhood on Thursday, Nov. 12, 2020 in San Diego, CA.
(Sam Hodgson / The San Diego Union-Tribune)
A man uses his cell phone to take a photo of fish in the large kelp forest tank at the Birch Aquarium at the Scripps Institution of Oceanography on Thursday, Nov. 12, 2020 in San Diego, CA.
(Nelvin C. Cepeda/The San Diego Union-Tribune)
A member of the U.S. Navy Leap Frogs Parachute Team lands on flight deck of the USS Midway Museum on Wednesday, Nov. 11, 2020 in San Diego, CA. The USS Midway Museum offered military veterans, and active duty military service members, and up to two additional family members free admission to the museum on Veterans Day. In addition, a boat parade, a vintage military aircraft flyover, and demonstration by the U.S. Coast Guard were part of Fleet Week San Diego.
(K.C. Alfred / The San Diego Union-Tribune)
Images from Union-Tribune staff and contributing freelance photographers
U-T journalist Annie Heilbrunn spent the day at a super poll location in La Mesa, talking to voters about the importance of this year's election.
Cemeteries will be closed on November 1st and 2nd, but still many will celebrate a tradition that has survived for centuries.
San Diego State's hopes to reach Mountain West championship game are dim and bowl prospects aren't much brighter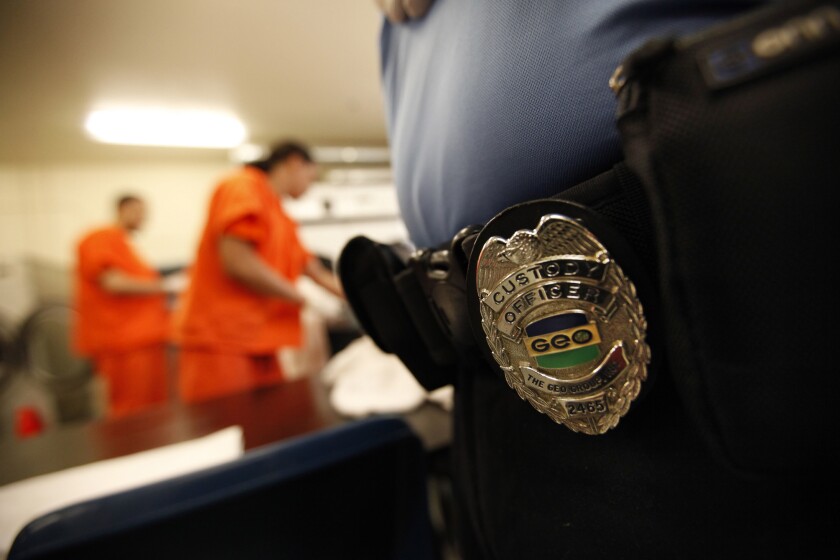 Advocates are urging California leaders to stop transfers from state prisons and jails to ICE custody and exercise public health oversight
Veterans Village of San Diego, along with many partner organizations, hosted a scaled-back, socially-distant version of its annual 'Stand Down' event Sunday morning.
USO trip including nail-biting helicopter rides, carrier landing opened eyes of baseball veteran
Former Hollywood actor Scott Eberlein joined the Army after 9/11 and now works to keep civilians out of harm's way in combat.
Ten percent of U.S. veterans are women yet there is a dearth of V.A. facilities named after female service members
Sign up to get Breaking News email alerts
Get alerts on severe weather, road closures and other major breaking news.
You may occasionally receive promotional content from the San Diego Union-Tribune.