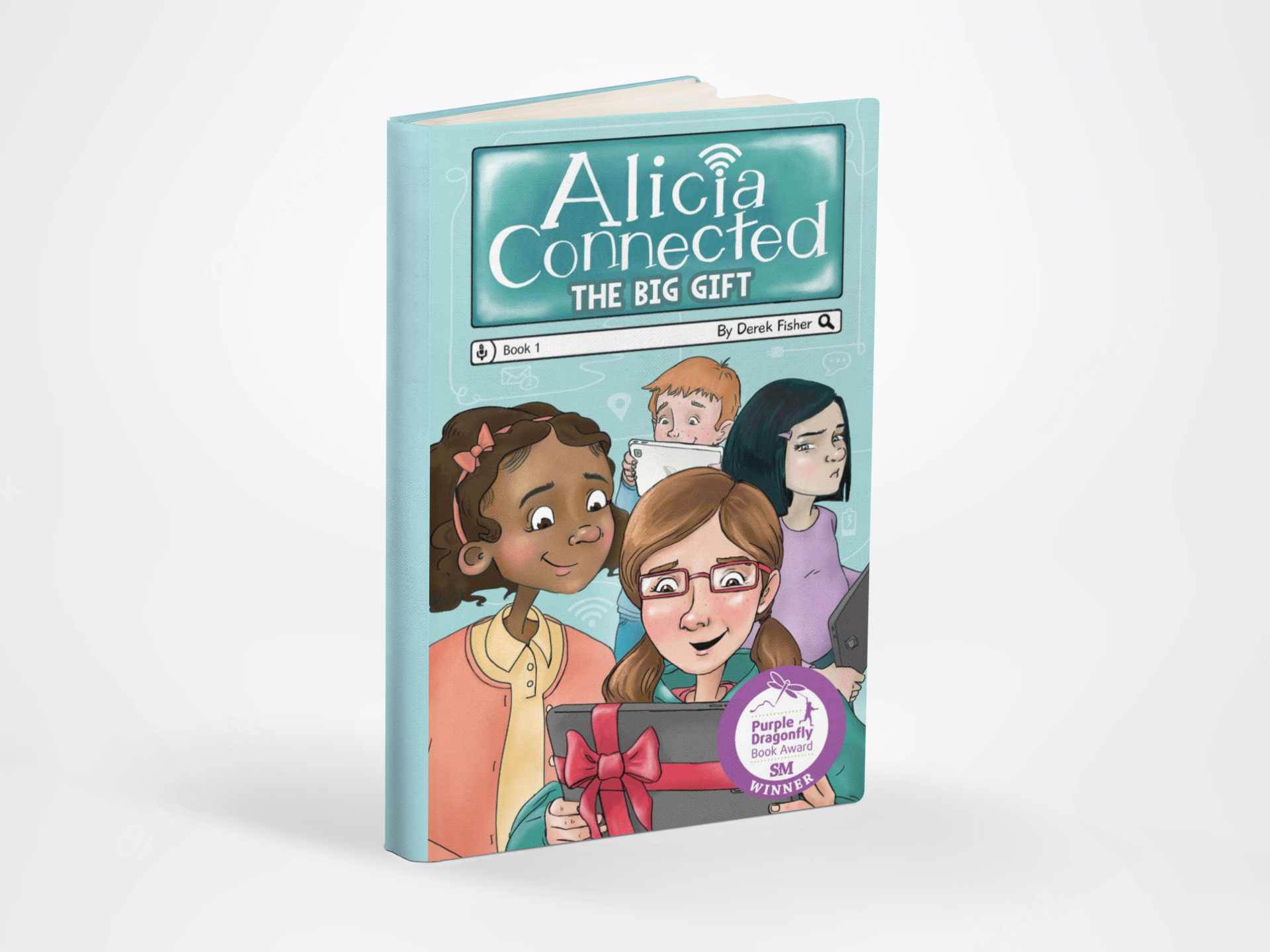 Alicia Connected is an innovative children's book designed to keep children safe in the digital world.
Technology can be a tremendous mechanism to connect and deliver good to the world. However, it must be used appropriately. Alicia Connected is a pioneering children's chapter book designed to help parents and kids manage the use of technology in a safe and secure manner. When Alicia receives a tablet for her birthday, she finally enters the world of technology and experiences the wonder and excitement it can bring. However, she must also learn to navigate the promises and pitfalls of being online, and develop appropriate digital etiquette. By showing both the positive and negative aspects of technology, the book teaches children to be great digital citizens by using technology to enhance their behavior, friendships and family, through tolerance, kindness and authenticity.
"Children are constantly surrounded by technology, and parents are often unaware of the consequences of being insecure online," says author, Derek Fisher. An award-winning author and seasoned cybersecurity expert, Fisher has over a decade of experience in the security space, working as an architect, leader, university instructor, and evangelist. With Alicia Connected, Fisher embraced the power of entertainment to inspire a legacy of change. His overarching goal was to take the complex topic of cyber safety, and make it easy for everyone to understand. "My goal with the book is to help children and their parents learn how to navigate an increasingly connected world in a safe and secure manner."
Through a meaningful and relatable story, the book shares valuable life lessons and teaches positive philosophies and behaviors. While Alicia's journey into technology begins with apps and games, it also includes a myriad of other online activities including how to set up a username, how to navigate friend requests and how to manage screen time. Using Alicia as a role model, children will learn to build good habits while using technology and avoid some of the common pitfalls related to security and safety online. In addition, Fisher's unique approach grounds kids in factual knowledge while allowing them the space to be curious, creative, and critical thinkers. Ultimately, readers will learn about the ripples of change that can be made with technology at home, at school, in the community, and around the whole world.
Alicia Connected has received positive reviews from some of the most well-renowned literary organizations, authors, and reviewers around the world. Midwest Book Review writes, "Advanced elementary to early middle school grades will appreciate this story of a girl's first introduction to new technology and its different responsibilities." In addition, Readers' Favorite writes, "Author Derek Fisher has created a perfect example of how parents and children can work together to keep safe online, without all the tantrums and commotion that usually come with kids and their social media."
Alicia Connected is available for sale on Amazon, Barnes & Noble and other online bookstores. Readers interested in establishing a safe environment for their children are encouraged to purchase a copy today: https://www.amazon.com/Big-Gift-Alicia-Connected/dp/0578685582
Readers, parents, educators and book clubs are also encouraged to visit the author's website for more information about the book and updates about new book releases: https://www.aliciaconnected.com
About the Author
Derek Fisher has been in the engineering field for several decades in both hardware and software at companies large and small. He became interested in cybersecurity and pursued a graduate degree from Boston University in the subject. He continues to work professionally as an architect, leader, university instructor, and evangelist in the security space. He is a frequent speaker at industry conferences where he provides his security insight to multiple fields and disciplines. His passion has been to take complex security topics and make them simple and easy to consume. As he raises his own daughter as a digital native, he has seen the opportunity to take his understanding of the security field and provide his insight to parents.
Connect with Derek Fisher on Social Media
LinkedIn: https://www.linkedin.com/in/derek-fisher-sec-arch/
Facebook: https://www.facebook.com/aliciaconnected
Instagram: https://www.instagram.com/aliciaconnectedseries/
Media Contact
Company Name: Author News Network
Contact Person: Media Relations
Email: Send Email
Country: United States
Website: authornewsnetwork.com