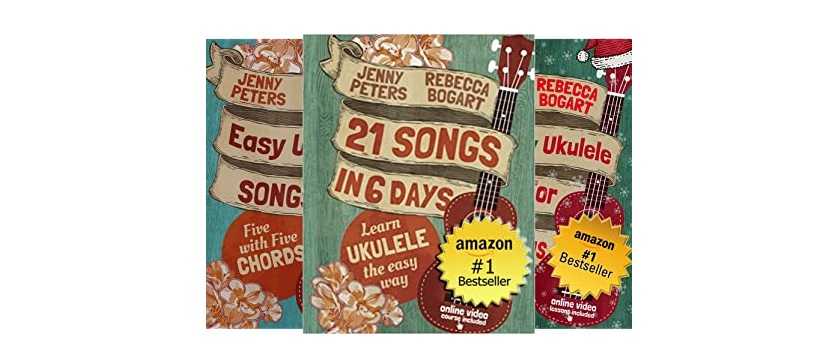 Beginning Ukulele Songs book series by Grammy-nominated educator Jenny Peters and her sister, Rebecca Bogart.
Forte Publishing announced the launch of an updated online course Practice Makes Permanent, designed by Grammy-nominated educator Jenny Peters and her sister, Rebecca Bogart.
Ukulele Online Course and Bestselling Book Series Makes Playing a Music Instrument Accessible to All
 The online course follows the bestselling Beginning Ukulele Songs book series that has sold over 100,000 copies over the last decade.
With a focus on beginners, the expertly designed course complements the successful six-book series and makes it easy and quick for anyone with limited music experience to see results within 6 days. The ukulele—the instrument that won the Guinness World Record for being the easiest instrument to play—was chosen by the celebrated sisters as the best instrument for beginners. Its four-string playing, and low cost make it accessible to most.
The six-book series starts with Book One, 21 Songs in 6 Days: Learn Ukulele the Easy Way, an Amazon #1 bestseller, and includes a well-designed progression of learning techniques for chords and songs.
Here's what librarians, reviewers, and customers are saying:
"An excellent ukulele primer for beginners. The book's step-by-step approach makes it easy to learn the chords and start playing songs right away."
"As an intermediate ukulele player who is self-taught, I feel that I know a good ukulele instructional book when I see one. This book has some great lessons for starting slowly and building skills over time by learning simple songs with easy chords."
"Accompanied by instructional videos, 21 Songs in 6 Days is a great beginning book for any aspiring musician."
The book series takes a beginner through intermediate level with a graduated set of exercises and fun and familiar songs. It comes with free online instructional videos and website support.
The Practice Makes Permanent - Ukulele Practicing Strategies Program is a monthly online course that teaches skill building and practice techniques to last a lifetime. Subscribers can join a group of fellow ukulele layers in a closed Facebook group and get the first month free in the program. Anyone can also sign up for the newsletter and get FREE ukulele sheet music every 2 weeks!
Visit Rebecca and Jenny's website at www.ukulele.io to learn more.
Media Contact
Company Name: BookBuzz
Contact Person: Amanda - PR Manager
Email: Send Email
Phone: 7065098422
City: New York
State: NY
Country: United States
Website: https://www.bookbuzz.net