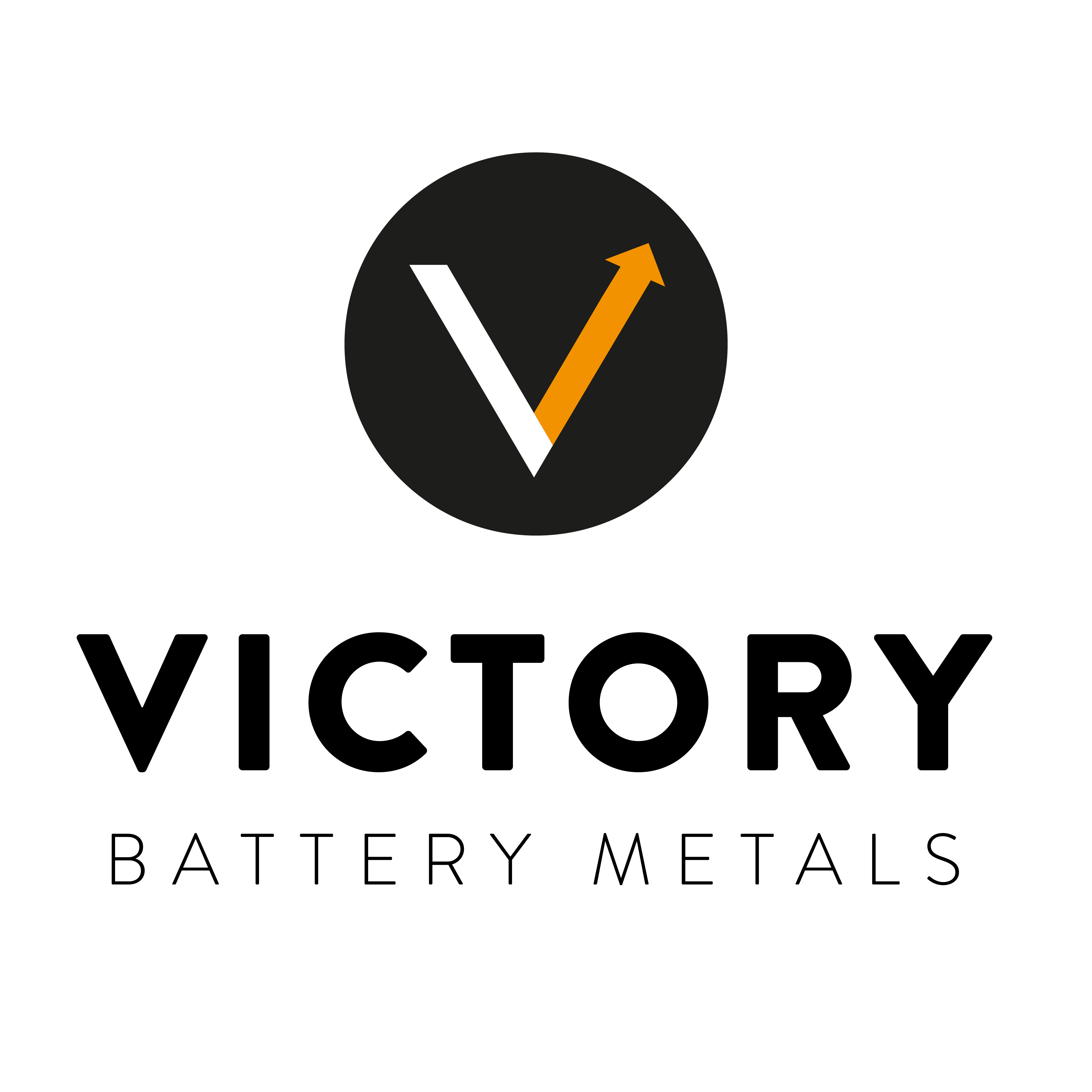 Victory Battery Metals Corp (OTC Pink: VRCFF) shares present a compelling value investment opportunity at current penny stock levels. And not just on blue-sky potential. VRCFF stock is worthy of consideration based on its intrinsic asset portfolio, which has just become more potent. On Monday, Victory announced expanding its interest at Smokey Lithium after a preliminary analysis of its recently completed drill program revealed significant untapped potential. The expansion adds another 100 claims to its interests and expands its reach to cover 2066 acres. There's better news.
More increases to its holdings could be forthcoming, with VRCFF noting it continues to analyze results from all exploration activities, including its most recent drill results combined with 2022 drilling, field mapping, surface sampling, and Tromino passive seismic studies, to develop the most complete picture for ongoing exploration plans at Smokey Lithium. Notably, the project area and surrounding lands show strong lithium mineralization with the Esmeralda Formation at the surface. Combined with the encouraging results from Victory's first round of drilling (completed in 2022), the project area is highly prospective. In industry language, VRCFF could be sitting atop a mountain of lucrative assets.
If so, and precedent does support that presumption, VRCFF shares could be in for a raise. At roughly $0.04 a share, that's not an overzealous expectation. Remember, in addition to holding and advancing exploration initiatives at excellent mining-friendly asset locations, VRCFF is also a de-risked mining and metals exploration play, noting that it is developing existing projects adjacent to projects by Agnico Eagle (NYSE; AEM) and American Lithium (NASDAQ: AMLI).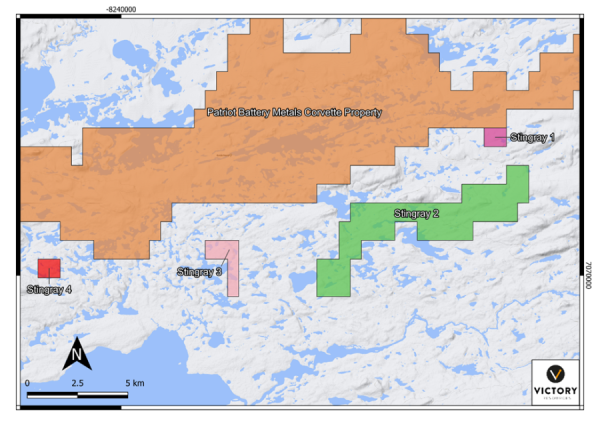 Drilling Into Value At Mining-Friendly Locations
Metals investors understand that location matters. And based on historical exploration and mining, VRCFF checks that box. As important, they check at least three others- having the right strategy to exploit asset value, having the capital to do so, and being focused on the right market opportunities at the right time. Factoring in that quad of detail, it's more than fair to consider VRCFF as an undervalued battery metals play. And after pivoting its operations focus to more fully monetize assets by serving the massive demand from the EV and green energy sectors, this nanocap metals exploration company may present a breakout opportunity in 2023.
Not from contributions from just a single project, either. Last week, VRCFF announced its exploration team is onsite conducting its summer exploration program at its Georgia Lake Lithium Project in the Thunder Bay Mining District, Ontario, an area with a rich heritage of giving up lithium. But better from an investor's perspective, Victory Battery noted in its update that boots are on the ground at the site, led by two geologists and two prospectors tasked with identifying geological or geochemical indicators of Li-bearing pegmatites.
The current exploration program consists of prospecting and sampling, as well as rock, till, and stream sediment sampling directed towards identifying geological or geochemical indicators of Li-bearing pegmatites on the Georgia Lake Property, and has been designed to build upon the information showing that Muscovite-bearing granites are associated with lithium-bearing pegmatites on Rock Tech's property and those metasediments and muscovite granites occur close to the property to the west, south, and east. Victory expects the Georgia Lake Property to hold much greater potential for Li-bearing pegmatites, which they believe were overlooked during regional mapping.
While a promising asset, others contribute to and support the bullish proposition.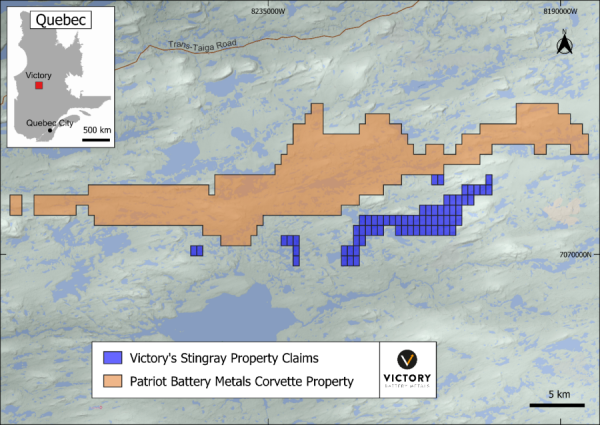 Exploring Multiple Project Opportunities
Four other projects: Stingray Lithium Array in James Bay, Quebec; Tahlo Lake, in the Babine Copper-Gold Porphyry District, British Columbia; Saguenay Nickel Project, Quebec; and Black Diablo Copper and Manganese in Nevada, contribute significantly to the VRCFF value proposition. Like Georgia Lake Lithium, these locations are close to historically proven exploration and mining in infrastructure-ready jurisdictions, which could enable drilling into each's value faster than expected.
Here's the absolute value driver- North America and its allies need what Victory intends to deliver: free-trading lithium. Well-covered in headlines, the lithium supply chain lacks balance, with estimates suggesting that China provides upwards of 70% of lithium production while only making about 13% of that supply available to demand outside its borders. That's bad now and is likely to get worse. With surging demand for lithium needed to power critical sectors, including planned changes to grids and energy infrastructures, China could be holding a weapon more potent than conventional weaponry. In fact, the control over lithium markets could have catastrophic implications for those planning to develop sustainable and clean energy products and services.
However, it's not all doom and gloom. The United States, Canada, and other European countries are finally recognizing the threat and, in response, are helping guide potentially billions of dollars in grants and incentives to stabilize supplies. Hence, in the right places with the right assets at the right time, Victory Battery Metals appears exceptionally well-positioned to seize opportunities inherent to that movement.
Capital On-Hand To Fuel 2023 Explorations
In fact, after strengthening its balance sheet, VRCFF appears better positioned than ever to monetize its assets. They completed a successful $2 million private placement and a non-brokered Unit Private placement that raised $300,000 by selling 6,000,000 investment Units. Those deals were finalized in March and, combined, are expected to be sufficient to execute its near-term initiatives. That's excellent news for VRCFF, the markets, and investors. Remember, any company, trading at pennies or dollars, can be an enormous financial beneficiary if it can deliver lithium. That includes Victory, whose mission, in part, is to close the wide gap between supply and demand. The other part is to create shareholder value.
They may get help in that respect. Federal mandates around lithium and critical battery metals production in the United States and Canada provide ways for junior mining and exploration companies, like VRCFF, to participate, capitalize, and maximize individual opportunities. Still, more than money is needed to generate lithium and other much-needed battery metals. Exploring promising locations matters the most, another box that VRCFF checks.
That combination of location and money could allow VRCFF to cash in on its opportunities through company-sponsored development or partnerships, including with its large-cap sector player neighbors. Remember that assets proven under the ground accrue to the balance sheet, so VRCFF doesn't necessarily need to fund a multi-million-dollar dig program.
Instead, they could benefit from a line of project supporters to help finance projects, including companies like Tesla (NASDAQ: TSLA), Ford (NYSE: F), and General Motors (NYSE: GM), which are making no secret of their willingness to buy as much lithium and other battery metals as possible to support their product development programs. In fact, Tesla CEO Elon Musk is making headlines for saying he would not rule out mining for lithium through his own company. Indeed, while an ambitious goal, the fastest way for him, or any company, to secure the lithium and battery metals needed would be to partner with a company on location.
With Victory Battery Metal's active and diversified programs targeting precisely what the EV and clean energy sector needs, they could be a potential partnering target.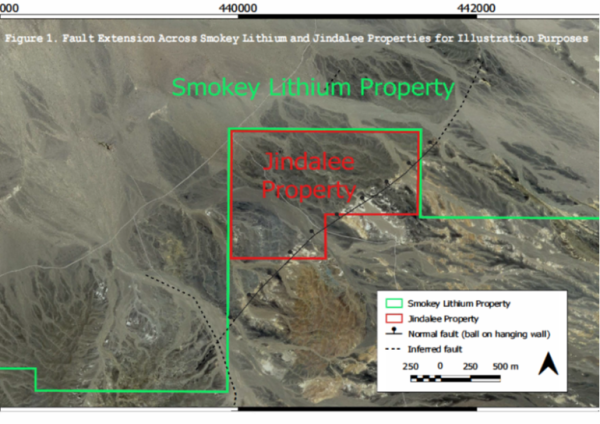 The Clean Energy Movement Is Accelerating
Indeed, consolidation is expected, and it's a win for the global clean energy movement. It's also a win for lithium explorations that can supply the metal, noting that worldwide electrification and net-zero emissions have made lithium more valuable than gold, particularly for its need to power EVs, which are expected to account for over 40% of total passenger car sales by 2030. That expectation and the lithium demand inherently involved put VRCFF in a sweet spot of opportunity as it continues to develop its assets in friendly territories.
While Georgia Lake earned a recent headline, VRCFF's flagship project is its Smokey Clay Lithium asset, located 20 miles north of Clayton Valley and 20 miles west of American Lithium's flagship exploration location. It resides in Esmeralda County, one of North America's most prolific lithium regions and home to multiple large-tonnage lithium clay deposits with acceptable grades of over 900 parts per million (ppm). A spring drilling program that concluded in May 2023 provided Victory with the evidence needed to increase estimates of the area and thickness of Smokey Lithium's targeted claystone sequences. This led to the milestone announcement of changing the project's status from early-stage to advanced.
Still, those two assets are far from being the only value drivers. VRCFF is exploring and developing other potentially asset-rich properties, including its Stingray Properties, which consist of 347 non-contiguous claims directly adjacent to Patriot Battery Metals' (TSXV: PMET) promising Corvette Property. What is interesting about this project is that the area is relatively under-explored, with some sections even remaining entirely unexplored. But that's not necessarily bad news. In fact, it can be quite the opposite if VRCFF shows data supporting its belief in underground treasure. And they are building that case, with favorable geology reports indicating that properties to the east and west of Victory's claims reportedly host pegmatite dikes and, better yet, show prospective bias for pegmatites similar to those found on Infinity Stone's Taiga and Camaro projects.
Another value driver inherent to Stingray is that by being located in Quebec's James Bay lithium district, which is expected to become the latest lithium hub, Victory can benefit from developing and existing infrastructure within the region. That advantage saves the company considerable capital and paves a more viable pathway toward closing strategic acquisitions and partnerships.
Sum Of Victory Battery Metals Parts Exposes Opportunity
Other projects in play include Victory's Tahlo Lake Project, one of the newest additions to its pipeline. Tahlo Lake is a 1,688 hectares property in the prolific Babine Copper-Gold Porphyry District in British Columbia. Notably, it sits adjacent to the same north-northwest trending fault as the prolific Morrison Deposit. Supporting potential value calculus, VRCFF recently confirmed in a mag survey of the property that a historic copper anomaly in the region's soil overlies a linear mag high. Again, costs can be low in developing, as infrastructure exists from American Eagle Gold's (TSX: AE) NAK Property to expedite and reduce exploration overhead. There's more to appreciate.
Victory's Saguenay Nickel Project consists of five claims over 286.4 hectares. An assessment in 1959 showed the property to contain respectable nickel content. Despite that bullish report, only some modern exploration efforts have occurred in the region until Victory's acquisition. VRCFF is assessing the property's potential to determine the most efficient and profitable path forward for exploiting its value.
Finally, despite being in its early stages of exploration and consideration, Victory's Black Diablo could also significantly contribute to long-term value. The company has 16 confirmed claims. Essential to its appraisal, this south of Winnemucca project is indicated to contain VMS copper deposits in the same belt of rocks as Nevada Sunrise Gold's Coronado VMS Project. A boost of production optimism is warranted, noting that the project is only 10 miles north of the Big Mike Copper Mine, which produced about 25 million pounds of copper in 100,000 tons of ore grading 10.5 percent copper.
Positioned For An Excellent 2H/2023
Combined, the sum of Victory Battery Metals' parts, performance, and ambitions in 2023 presents an opportunity that may be too good to ignore. Yes, nanocap exploration companies are high-risk/high-reward propositions. However, downside risk could be mitigated by VRCFF having a stable of assets within the most mining-friendly and proven lithium and battery jurisdictions. And once those facts become more widely known, this under-the-radar company could benefit from a tailwind of investor interest, both retail and industry.
In other words, a current window of opportunity could close quickly, and don't be surprised if it does. Victory Battery Metals has completed significant groundwork to exploit value from its assets. And in an industry where proving reserves can be nearly as valuable as unearthing them, VRCFF could be just a headline away from initiating rally mode. Considering VRCFF's portfolio and the work being completed, that could happen sooner than later.
Disclaimers: Shore Thing Media, LLC. (STM, Llc.) is responsible for the production and distribution of this content. STM, Llc. is not operated by a licensed broker, a dealer, or a registered investment adviser. It should be expressly understood that under no circumstances does any information published herein represent a recommendation to buy or sell a security. Our reports/releases are a commercial advertisement and are for general information purposes ONLY. We are engaged in the business of marketing and advertising companies for monetary compensation. Never invest in any stock featured on our site or emails unless you can afford to lose your entire investment. The information made available by STM, Llc. is not intended to be, nor does it constitute, investment advice or recommendations. The contributors may buy and sell securities before and after any particular article, report and publication. In no event shall STM, Llc. be liable to any member, guest or third party for any damages of any kind arising out of the use of any content or other material published or made available by STM, Llc., including, without limitation, any investment losses, lost profits, lost opportunity, special, incidental, indirect, consequential or punitive damages. Past performance is a poor indicator of future performance. The information in this video, article, and in its related newsletters, is not intended to be, nor does it constitute, investment advice or recommendations. STM, Llc. strongly urges you conduct a complete and independent investigation of the respective companies and consideration of all pertinent risks. Readers are advised to review SEC periodic reports: Forms 10-Q, 10K, Form 8-K, insider reports, Forms 3, 4, 5 Schedule 13D. For some content, STM, Llc., its authors, contributors, or its agents, may be compensated for preparing research, video graphics, and editorial content. STM, LLC has been compensated up to five-thousand-dollars cash via wire transfer by a third party to produce and syndicate content for Victory Battery Metals, Inc. for a period of two weeks ending on June 19, 2023. As part of that content, readers, subscribers, and website viewers, are expected to read the full disclaimers and financial disclosures statement that can be found on our website. The Private Securities Litigation Reform Act of 1995 provides investors a safe harbor in regard to forward-looking statements. Any statements that express or involve discussions with respect to predictions, expectations, beliefs, plans, projections, objectives, goals, assumptions or future events or performance are not statements of historical fact may be forward looking statements. Forward looking statements are based on expectations, estimates, and projections at the time the statements are made that involve a number of risks and uncertainties which could cause actual results or events to differ materially from those presently anticipated. Forward looking statements in this action may be identified through use of words such as projects, foresee, expects, will, anticipates, estimates, believes, understands, or that by statements indicating certain actions & quote; may, could, or might occur. Understand there is no guarantee past performance will be indicative of future results. Investing in micro-cap and growth securities is highly speculative and carries an extremely high degree of risk. It is possible that an investors investment may be lost or impaired due to the speculative nature of the companies profiled.
Media Contact
Company Name: STM, LLC.
Contact Person: Michael Thomas
Email: Send Email
Country: United States
Website: https://primetimeprofiles.com/