The Church of Scientology South Africa in Castle Kyalami reports its activities in recognition of World Peace Day, a United Nations-sanctioned holiday observed annually in September.
Midrand, Gauteng, South Africa - September 21, 2023 —
The Church of Scientology South Africa in Castle Kyalami reports its activities in recognition of World Peace Day, a United Nations-sanctioned holiday observed annually in September, dedicated to strengthening the principles of peace, non-violence and peaceful coexistence and cooperation amongst communities and nations. Using September to create a month of awareness activities, the Church of Scientology reports on human rights seminars, workshops and presentations done thus far and counting, by a large variety of groups all throughout South Africa and other African countries, to educate youths and adults on their 30 human rights advocating tolerance and peace.  
"United for Human Rights" is an international, not-for-profit organization dedicated to implementing the Universal Declaration of Human Rights at local, regional, national and international levels. Proudly sponsored by the Church of Scientology and Scientologists all over the globe, its membership is comprised of individuals, educators and groups throughout the world who are actively forwarding the knowledge of human rights to protect all Mankind.
According to existing human rights activists, several countries in Western Africa suffer from flagrant human rights violations including forceful marriages, police brutality, deprivation of educational rights and "jungle justice" – a form of public unauthorized killings where alleged criminals are publicly humiliated, beaten and executed by vigilantes. That is aside from making mention of the Ukraine/Russian war which grabs many governments of the world's attention as well. 
Experiencing and/or witnessing similar or further human rights issues galore, hundreds of volunteers across several African countries including South Africa, Mauritius, Nigeria, Zambia, The Gambia, Mali, Togo, Kenya and Ghana, determinedly banded together in raising human rights awareness, in their strive for peace in Africa. Just within the beginning 2 weeks of September, they distributed and used booklets called What Are Human Rights? and The Story of Human Rights to educate people on their rights in commemoration of World Peace Day.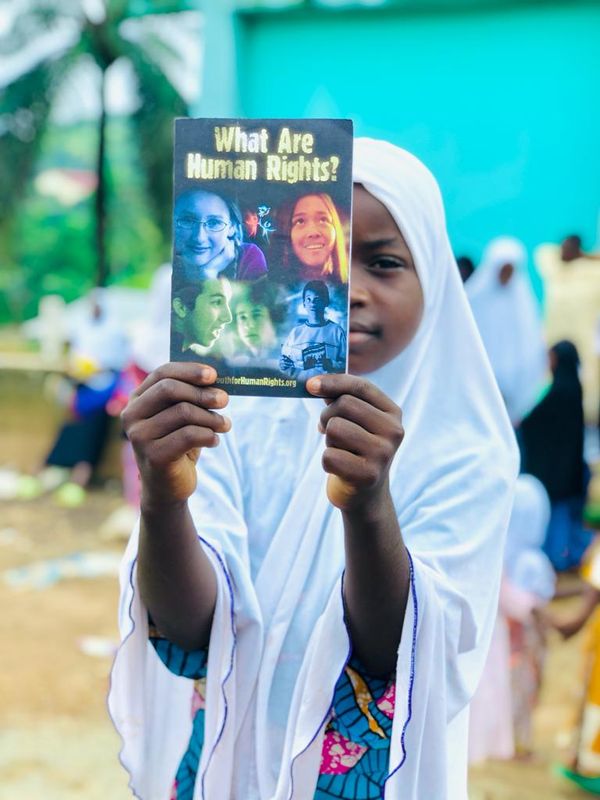 "Sometimes I wonder – what if we lived in a world without war, without criminality, without physical or mental abuse and where every person and child had the right and means to a formal education - how much more efficient and peaceful would our world be?", said Asthra Maximov Director of Social Reform for Africa. "The United for Human Rights and Youth for Human Rights campaign helps us to get closer and closer to this goal of World Peace", Maximov added. "Our founder L. Ron Hubbard was very much in favor of human rights himself and is a leading example of why I continue my role in advocating human rights education and awareness".    
The campaign, United For Human Rights, was established 25 years ago to make people aware of their rights. Surveys across the world revealed that very few people are aware of their rights. Many do not even know they have 30 human rights, nor can they define what human rights mean. 
"I am proud to deliver weekly human rights training seminars to all of my volunteers throughout Nigeria, in preparation for their activities for World Peace Day", said D. Ifeakachukwu, long-standing and veteran human rights volunteer and coordinator in Nigeria. "I use the information contained in the The Story of Human Rights and the What Are Human Rights? booklets for all of my seminars" Ifeakachukwu added. "Human rights is a serious issue in my country which concerns me every day. This is why we must work together educating the community on their human rights, thus creating a peaceful Africa", Ifeakachukwu concluded. 
Contact Info:
Name: SANDILE HLAYISI
Email: Send Email
Organization: CHURCH OF SCIENTOLOGY SOUTH AFRICA
Address: Gauteng, South Africa
Phone: +27 061 907 9325
Website: https://www.castlekyalami.org.za/

Social Media:
Facebook: https://www.facebook.com/castle.kyalami
Twitter: https://twitter.com/africa_vm
Instagram: https://www.instagram.com/castle_kyalami/?hl=en
Youtube: https://www.youtube.com/channel/UCgDogs77JAdDTDV3p6Zc5IA/

Video URL: https://www.youtube.com/watch?v=6XXGF_V8_7M
Release ID: 89108114
In case of identifying any errors, concerns, or inconsistencies within the content shared in this press release that necessitate action or if you require assistance with a press release takedown, we strongly urge you to notify us promptly by contacting error@releasecontact.com. Our expert team is committed to addressing your concerns within 8 hours by taking necessary actions diligently to rectify any identified issues or supporting you with the removal process. Delivering accurate and reliable information remains our top priority.