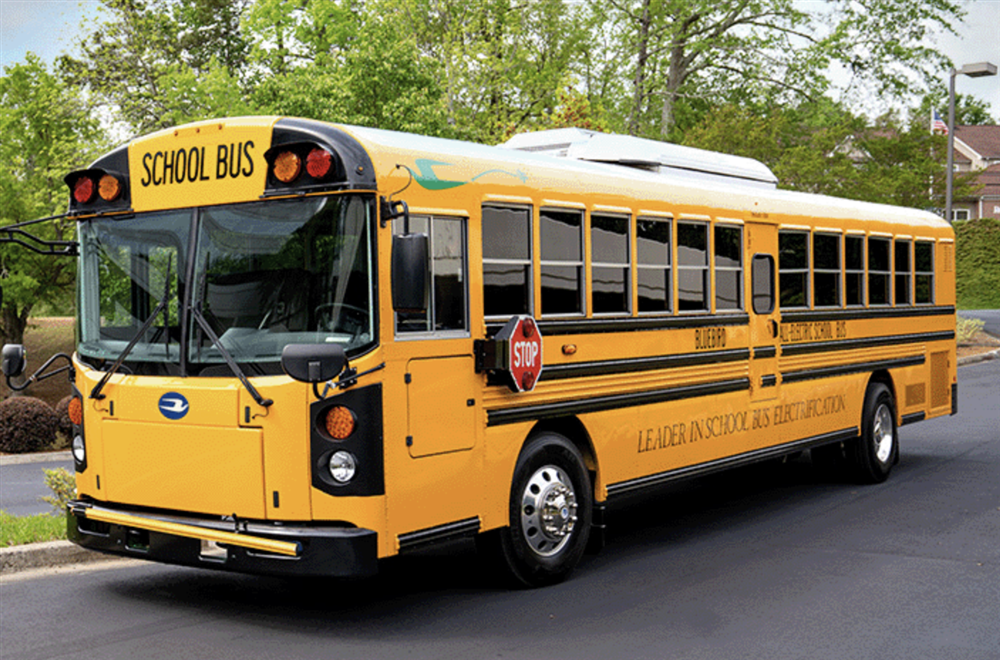 Two thousand miles northeast of Tesla's Austin headquarters, Blue Bird Corp. (NASDAQ: BLBD) is making some noise. With Twitter aflutter about Cybertrucks and Superchargers, the Massachusetts-based company has the auto industry chirping about, yes, school buses. 

A resounding return to profitability and an improved outlook have Blue Bird shares up 107% year-to-date. Although classified as an industrial machinery stock, Blue Bird trails only Tesla's 111% year-to-date return among U.S. auto manufacturers. 

Last month, the nearly 100-year-old company came within a dime of matching its all-time high of $28.90 after management raised its 2023 guidance for the second time this year. But after announcing a secondary offering, Blue Bird has seen its share price swoop back into the low $ 20s in recent days. 

Given the momentum in the business and a compelling electric vehicle (EV) opportunity of its own, Blue Bird may ultimately be flying higher. 
Why Is Blue Bird Stock Outperforming?
Of the 26 million American children that ride the big yellow bus daily, many take a Blue Bird. Over time, an increasing number of them will be climbing aboard an electric powered Blue Bird. 
As the company joins other automakers in reducing carbon emissions, Blue Bird's mostly propane- and gas-powered bus fleet is gradually shifting to electric. Given the growing demand from cost- and safety-minded school districts, Wall Street is taking notice.
Last month, Craig-Hallum became the third sell-side research firm to cover Blue Bird. Along with Roth MKM and D.A. Davidson, the firm considers the stock a buy. The recent bullish sentiment around Blue Bird stems from two major events. 
First, on the heels of record first-quarter sales, Blue Bird delivered an impressive second-quarter update. The company posted its first quarterly profit since the fourth quarter of 2021, tripling the consensus EPS estimate of $0.08. Management then raised its full year forecast for the second straight quarter and told investors, "our turnaround is working ahead of schedule."
Much of the optimism is around electric buses. Driven by the EPA's 2022 Clean School Bus Rebate Program, electric school bus orders are rising steadily. Blue Bird's electric bus bookings soared 176% in Q2, bringing its electric bus order backlog to over 620. 
In April 2023, Boston Public Schools placed their first 20 Blue Bird electric buses into operation. The same month, Blue Bird delivered 60 electric buses to Broward County Public Schools in Florida, the nation's sixth-largest public school system. With the EPA's rebate program providing almost $1 billion in funding, Blue Bird is expecting at least $200 million of incremental revenue. 
The second major event is the return of former CEO Phil Horlock. On May 15th, Mr. Horlock took over as President & CEO, a role he held for more than a decade through 2021. This is a bullish development because 1) Mr. Horlock has a solid track record, having successfully navigated Blue Bird through Covid challenges, and 2) it shows that the former leader is excited about the company's electric future.  
Is Blue Bird Stock Undervalued?
Based on analysts' current year earnings forecast, Blue Bird has a P/E ratio of 41x. This makes the stock look too rich, but investors should be focused on 2024 earnings. With electric bus adoption poised to accelerate in the next 12 months, Blue Bird's EPS is expected to nearly triple in fiscal 2024. Based on fiscal 2024 EPS, the stock trades at just 15x, a small price to pay for a company on the brink of 176% annual profit growth.
While not an apples-to-apples comparison, Tesla trades at 54x next year's earnings. More importantly, Blue Bird's 'cheap' valuation makes it an intriguing way to invest in vehicle electrification growth.
As buses go from 'old school' diesel to new school 'electric,' the electric school bus market is likely to experience explosive growth this decade. An estimated 95% of U.S. school buses are diesel-powered. Meanwhile, a wave of federal grant programs and proposed regulations are expected to spur school districts to invest heavily in electric buses, parts and infrastructure. As a leader in the space, Blue Bird is in the driver's seat.