Northampton, England - June 8, 2023 - Daniel's Painting and Decorating Services, a leading painting company, has been awarded the 2023 Quality Business Award for The Best Painters in Northampton. The award recognizes Daniel's Painting and Decorating Services for its excellence in customer service, quality services, and overall business operations.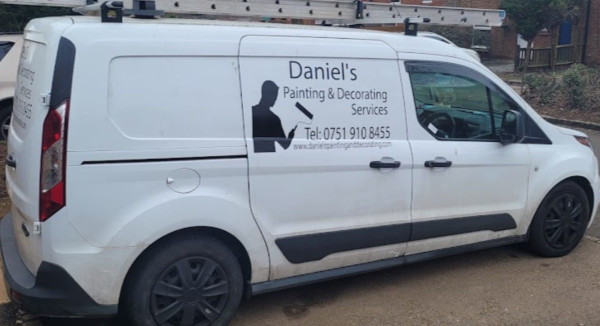 The Quality Business Awards are an annual recognition of businesses that demonstrate excellence in their field. The winners are chosen based on their reputation, customer feedback, and overall performance in their respective industries.
Daniel's Painting and Decorating Services is a top painting company in Northampton. Daniel and his team have over 15 years of painting and decorating experience. Daniel's Painting and Decorating Services offers interior and exterior painting, as well as decorating services. They aim to exceed client needs and expectations by providing work that is carried out to high standards quickly, efficiently, and for an affordable price. The Daniel's Painting and Decorating Services team is friendly, polite, reliable, and experienced. To ensure that their customers are pleased with the project results, Daniel's Painting and Decorating Services prides themselves on their attention to detail, tidiness, safety, and satisfaction guarantee. Daniel's Painting and Decorating Services are proud to serve Northampton and the surrounding communities.
When it came time to select this year's winner, Daniel's Painting and Decorating Services was easily identified as a clear leader in the painting industry. Their experienced and friendly team is celebrated throughout the Northampton community, and highly favourable reviews of Daniel's Painting and Decorating Services are plentiful. "Daniel carried out a complete redecoration at one of our rental properties in Corby and did an exceptional job. I promised we would ask him to carry out some redecoration at our own home. He did not disappoint us and once again carried out a wonderful professional and friendly job. Would recommend to anyone." "I could not rate Daniel and his team highly enough. Extremely professional and very friendly. The job has been completed to a really high standard, and I will be asking Daniel back to do our exterior. If you have any decorating needs then I wouldn't hesitate to get in touch." "Daniel provided a very professional work. I was entirely hands off as Daniel took care of everything with a smile on his face! I would strongly recommend Daniel for any Exterior Painting works in and around Northamptonshire." "Living room done - filled cracks, did walls, ceilings and all woodwork. Daniel is Hardworking, thorough and pleasant. Good price, and did more than originally agreed but stuck to fixed price. I strongly recommend Daniel painters." These are some of the many enthusiastic reviews written by customers who were extremely impressed with the communication and work provided by Daniel's Painting and Decorating Services. The entire team goes above and beyond to ensure they provide impeccable project results for every customer.
The Quality Business Awards honour businesses that achieve an average quality score of 95% or higher over the previous year. In order to be considered for the award, the business must have exceptional customer reviews from more than three various platforms. Businesses that have maintained sterling reputations and records over numerous years with few complaints will score very highly. Businesses that respond to the majority of client comments and reviews consistently will also be highly viewed upon. Finally, these businesses must conduct themselves with the utmost integrity, regularly give back to the community and make concrete efforts to reduce their carbon imprint. A Quality Business Award is the seal of quality and acknowledges a true dedication to providing a quality product and excellent customer service.
For more information about Daniel's Painting and Decorating Services, please visit the company's website at www.danielspaintinganddecorating.com
Contact:
Quality Business Awards
support@qualitybusinessawards.co.uk
Media Contact
Company Name: Daniel's Painting and Decorating Services
Email: Send Email
Phone: 07519 108 455
Country: United Kingdom
Website: https://www.danielspaintinganddecorating.com