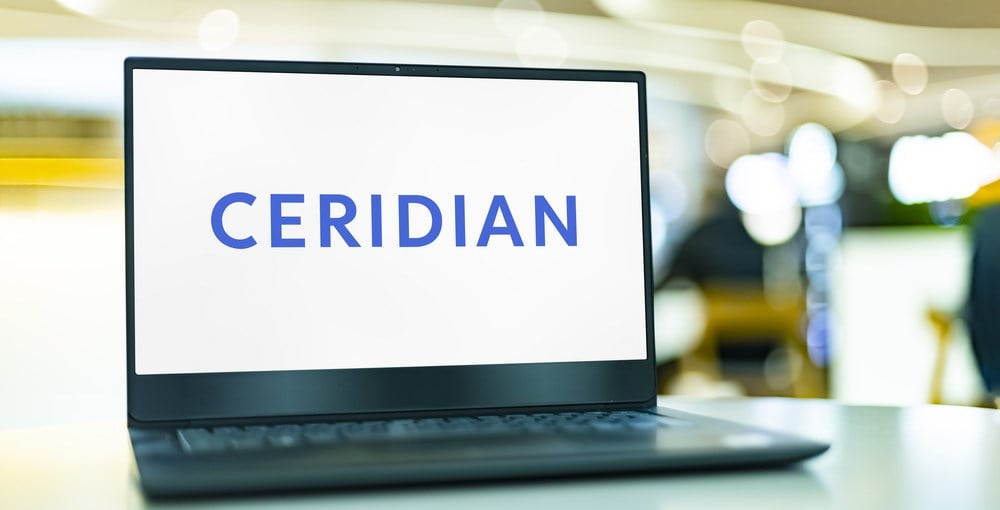 ​​​One way to spot promising stocks for your watchlist is to track those currently forming bases, which also boast growing revenue and earnings. A stock that meets those criteria is Ceridian HCM Holding Inc. (NYSE: CDAY). 
Ceridian is a global human capital management software company that provides cloud-based software for payroll, benefits administration, workforce management, and HR analytics.
The company says its primary competitors include Workday, Inc. (NASDAQ: WDAY), Automatic Data Processing, Inc. (NASDA Q: ADP), The Ultimate Software Group, Inc. (NASDAQ: ULTI), Kronos Incorporated, Paycom Software Inc. (NYSE: PAYC), SAP SE (NYSE: SAP), Oracle Corporation (NYSE: ORCL) and Paylocity Holding Corp. (NASDAQ: PCTY). 
Ceridian stock is forming a picture-perfect double-bottom base, whose traditional structure buy point is $73.89, although a June 13 gap above the 200-day moving average could also signal the stock is actionable, to more aggressive investors. 
Stock In Rally Mode
Ceridian stock has been in rally mode recently, returning 13.68% in the past month, as it climbed up from a May 5 structure low of $55.62. As of June 13, shares were trading just above $67.
In the first quarter, which the company reported on May 3, Ceridian earned $0.31 per share, up 138% from the year-ago quarter. It was the third quarter in a row with triple-digit earnings gains. 
Revenue came in at $370.6 million, up 26%. The company has grown sales at rates between 19% and 30% in the past eight quarters. 
The company generates revenue primarily from recurring fees charged for the use of its cloud-based solutions, Dayforce and Powerpay. The latter is available to Canadian small-business customers. The company also gets revenue from a legacy product called Bureau, which is no longer actively marketed. The final revenue source is through professional services or assistance to customers with the planning, design, and implementation of Ceridian products.
On-Demand Access To Earned Pay
One area the company is especially focused on is Dayforce Wallet, which offers customers' employee's on-demand access to their earned pay anytime, anywhere, in an intuitive mobile app experience. In other words, they don't have to wait until payday to get paid. 
In the first-quarter earnings call, co-CEO David Ossip noted that the feature is helping Ceridian customers retain employees, which saves them costs associated with worker turnover and training. 
At the end of the first quarter, Ceridian had 6,179 Dayforce customers using the platform. That marked an increase of 186 customers since the end of the previous quarter, and an increase of 570 customers year-over-year, an increase of 10.2%. 
Wall Street expects Ceridian to post earnings of $1.20 per share this year, an increase of 56%. Next year that's expected to rise by 31% to $1.57 a share. 
Moody's Upgraded Ceridian Debt
In some other good news that could make the stock more attractive to institutional investors, Moody's upgraded Ceridian's debt to B2 from B3, citing improving operating performance and a stronger liquidity profile. Debt that is rated B2 is still considered speculative and subject to high credit risk.
However, an upgraded debt rating boosts investor confidence, lowers borrowing costs, and signals improved financial stability for the company.
Ceridian does have a high level of debt, with its debt-to-equity ratio currently at 58%. That level increases risk; hence the speculative rating. It requires tight control of capital management. In Ceridian's case, a focus on revenue growth and operational efficiencies somewhat offset the high level of borrowing. 
Generative AI Tools 
Along the lines of growth, in the recent earnings conference call, management emphasized its development of generative AI tools both in its own customer support processes and within products it's developing for customers. 
The company raised its earnings guidance, saying it expects an increase in the range from $4 million to $6 million. It also raised top-line expectations for the year, forecasting Dayforce recurring revenue growth in the range of 26% to 27%. That number reflects sustained employment trends and new customers going live on the platform, weighted toward the second half of the year.