World Artists United is back with the third annual Music Entrepreneurship conference featuring leading media entrepreneurs from around the globe.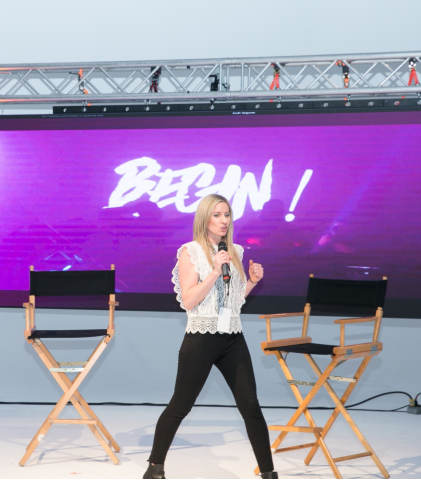 New York, United States - November 26, 2020 /PressCable/ —
Covid didn't just rock the music business this year — it caused people around the world to stop, pivot everything, redefine their business and set new goals for the future. Change is often hard, but there's a lot of good that can come from it and it's not all downhill from here.
Opportunities to thrive in the business of music have never been more abundant. Goldman Sachs estimates that the industry is set to double by 2030 to $142 billions in revenues and with the launch of Apple and Android's new flagship devices equipped with the 5G network, music creators and entrepreneurs will have the bandwidth to innovate and evolve their content and connections in ways they never imagined. The rate at which we can connect, share experiences, collaborate on music and transact with one another around the world continues to increase and artists should have an easier way to stay up on leading edge tools and opportunities to make a living doing what they love. It's estimated that an artist signed to a major label may receive as little as 13 percent of their streaming income, meaning 0.000988 per stream, so it's time to get serious about building a brand and business with a reliable future that artists can control from home.
The next Music Entrepreneur Conference hits the virtual stage again this December 11&12, featuring seasoned artists, producers, music business educators, entrepreneurs and financial experts. Over the years, MEcon has grown into a staple event for those who feel lost at times and are looking for guidance from a team of experts. This year's lineup will offer more than just tips and advice, and will provide step by step strategies to help music entrepreneurs move forward, create more income streams and establish a stable career.
Co-founders Rachel Karry and Jalen James Acosta, and the WAU Team, invite music lovers to experience two days of workshops, coaching and networking that will elevate your skills, mindset and vision for the future. Attendees will leave with a 2021 game plan to get their fan base and bank account to the next level, the inspiration to push beyond challenges and a network of entrepreneurs with whom to learn and grow along the way.
Speakers from around the world, including legends, leaders and innovators like world renown musician and music entrepreneur Scott Page, Grammy award winning producer and "artivist" Jerry Wonda, music finance, analytics expert and startup CEO John Funge, seasoned educators and music business masters like Ariel Hyatt, Virginie Berger, Mark Frieser, Paul Wiltshire, Suz Paulinski, Alexei Barrionuevo, Joep van Leijsen, Oye Akindeined, John Petrocelli, Tara Gupta, Channing Moreland, Kwasi Asare, and many other global music entrepreneurs who will share their knowledge and best practices for everything from creating hits to building credit to developing brand equity and to having the strength to pull yourself up when you want to give up. The Music Entrepreneur Method will be right at your fingertips. Whether creating music, managing artists, designing technology or something in between, music entrepreneurs need a solid game plan to follow and community that foster a successful mindset to push them ahead.
"Our philosophy is to think like a CEO and grow like a BOSS," says Karry. "No matter who you are, you need to be able to think like a leader, keep a killer team together and stay on top of your own personal development so you can handle any successes or challenges that come your way."
Topics Include
Thinking and communicating like a leader
Upleveling your mindset for success
Creating new revenue streams
Connecting and nurturing superfans
Growing your international network
Building brand equity
Understanding your audience
Producing content on a budget
Budgeting for success
Planning for the future
And much more!
MEcon features sessions for industry executives to sharpen their leadership skills, and for music technology startups to share their innovation with the ME global community, gain leading-edge industry expertise and meet investors.
"Having worked with some of the most successful music entrepreneurs on the planet, I know how important mentorship and sharing of knowledge is to the success of an artist or label. I have been a fan of The Music Entrepreneur Conference since it launched at Harvard a couple of years ago, and so I am excited to be a contributor this year. We are going to deliver vital strategies for entrepreneurs and artists to advance their careers going forward." said Kwasi Asare CEO of Feedia Marketing Agency.
Artists will have the opportunity to apply for hard cash from ME partners at TheMusic.fund, and leave the event with money to invest in their future. Music technologists and startups also have the opportunity to share their inventions that are helping shape the future of the music industry with world class investors and those in the ME community who will be ready to sign up.
The first 1,000 attendees will receive free admittance! We invite university students around the world studying music and business to sign up their schools and receive complimentary tickets for students. Limited VIP tickets also will offer access to private group and individual sessions with our keynote speakers and ME Masters to get your questions answered and grow your network.
Learn more at www.musicentrepreneurconference.com or www.worldartistsunited.com
Contact Info:
Name: Kwasi Asare
Email: Send Email
Organization: World Artists United
Address: 99 Wall Street, New York, New York 10005, United States
Website: https://www.worldartistsunited.com/
Source: PressCable
Release ID: 88987411