Catalogs.com Unveils Dynalog at the Shop.org 2015 Digital Summit
September 29, 2015 at 06:00 AM EDT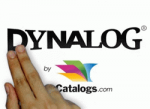 As the Dynalog continues to gain traction among national and international retailers, Catalogs.com is showcasing it at the Shop.org Digital Summit in Philadelphia, where businesses such as Abercrombie & Fitch, Bed Bath & Beyond Inc., and Nike Inc. build relationships in digital retail.
Fort Lauderdale, Florida (PRWEB) September 29, 2015
The Dynalog, Catalogs.com's latest innovation for connecting shoppers with the products they love, is set to make the rounds at the Shop.org 2015 Digital Summit in Philadelphia October 4.
The Shop.org Digital Summit hosts national and international sellers, including big-name clothing brands such as Lands' End and Talbots, department stores such as Lord & Taylor and The Bon Ton Stores, Inc., and online retailers such as hpshopping.com and Furniture.com.
This digital catalog platform, which is responsive to smart phones, tablets and laptops with its highly interactive design, has several clear-cut advantages over PDF catalogs, according to Richard Linevsky, co-founder of Catalogs.com .
"We are excited by the innovative techniques retailers have been leveraging using the Dynalog," says Linevsky. "We're facilitating a necessary shift from outdated, expensive PDF catalogs. Stores love it because they don't need to reformat one-time-use only PDF catalogs, and it delivers a cutting-edge, aesthetically pleasing look."
The Dynalog met with astounding success at recent events, including the Las Vegas MAGIC trade show in August and the Home Furnishings Networking Conference in May.
Part of its success may be attributed to the fact that nearly 60 percent of online shoppers use catalogs, according to Marketing Pilgrim. Forty-five percent of women aged 18 to 30 say that catalogs stimulate their interest in specific retailers, and 86 percent of shoppers buy an item after first seeing it in a catalog. Because of the proven shift from print media to digital media in shopping, the Shop.org Digital Summit is the perfect place to put the Dynalog on display.
"Shop.org is going to be a great event for us," says Linevsky. "Many of our existing clients are going to be there, including National Geographic Store, Waterford, Relax The Back, Things Remembered Inc., Taylor Gifts, and The Bradford Group. We plan on showcasing some of our other clients too, like Jos. A. Bank, Jockey, Bombay, Lindt Chocolate, C-A-L Ranch Stores and Wilsons Leather. We're really looking forward to opening doors for retailers with the Dynalog's ease-of-use and ability to sell more products to a wider consumer base."
About Catalogs.com
Catalogs.com has been connecting shoppers with their favorite brands and products since 1996. The newest innovation from the brand, the Dynalog, is a responsive, interactive catalog that makes catalog shopping easier than ever before. Catalogs.com provides shoppers with access to over 700 retailers and their products through mail, online and mobile platforms.
For the original version on PRWeb visit: http://www.prweb.com/releases/catalogscom/dynalog_digital_summit/prweb12989834.htm