Galaxy eSolutions, the Established and Profitable Refurbished Electronics Ecosystem Announces Token Sale to Create an Efficient and Trustworthy Marketplace
February 05, 2018 at 12:49 PM EST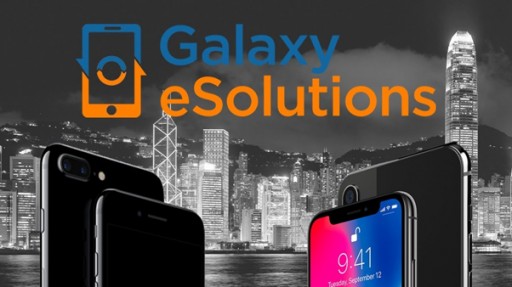 HONG KONG - February 5, 2018 - (
Newswire.com
)
​Refurbished and pre-owned electronics ecommerce ecosystem, Galaxy eSolutions, announces a Token Sale to bridge the market with the technology of the Blockchain. The Token Sale bringing Galaxy's native GES tokens to market will run from 18th February 2018 to 31st March 2018.
Galaxy eSolution is a huge and already well- established ecommerce giant reaching nearly 20 Million USD in sales within its first year; the company has a firm grasp on the ever-booming market of refurbished and pre-owned electronics, which is tipped to be worth billions and is predicted to grow further.
Galaxy eSolutions have announced their Token Sale after numerous successes and rapid profits within this highly profitable market. The Sale announcement comes at a time when real-world application of Blockchain technologies are being adopted by numerous industries which all play a part in testing the capabilities of this brilliantly adaptive and intelligent network.
By integrating the existing ecosystem with the blockchain, Galaxy eSolutions can evolve into a hybrid ecosystem and marketplace platform, solving a number of issues within the multi-billion dollar industry that supplies refurbished and pre-owned electronics.
Operational Strengths
Based in Hong-Kong, Galaxy eSolutions has a gigantic operational reach across over 26 countries with the mission to build a Pre-owned / refurbished B2C (business to consumer) and B2B (business to business) ecommerce Ecosystem; included in this vision is the goal to 'make the world more environmentally friendly through recycling and sharing economy.'
The Blockchain plays such a vital role in helping Galaxy eSolutions achieve this vision as it helps logistical industries maintain an easily accessible source of recorded, accurate and honest details of goods, transactions and logistics.
Blockchain technology keeps trust and credibility issues at an absolute minimum between departments and parties such as, supplier qualities, product grading, payments of goods and services, authentication, quality standards and so on, which in turn provides the company utilising the technology with much more time and work-force power to focus on the other important matters at hand, saving time and money.
The GES utility token will be used as blockchain token comes with reduced costs and generates faster transactions times; the token will be used to create listings and use upgraded services such as verified or featured supplier spots through Galaxy eSolutions. It will also be used for Galaxy eSolutions services such as quality assurance and inspection which goes toward ensuring the refurbished product is up to standard, and also act as a ship-on-hold logistic centre all the while being highly a highly functional utility on Galaxy eSolutions sites for purchases.
GES tokens and the blockchain platform are set to be incorporated into one of the Galaxy eSolutions marketplaces called MobileFreak where businesses and consumers can trade-in old mobile phones with other businesses, a direct P2P model and ecosystem that has blockchain technology readily available to keep all parties up to date on all processes and logistics.
Galaxy eSolutions Token Sale
The Galaxy eSolutions Token Sale begins on the 28th of February, 2018, ending the 31st of March, 2018; more details of the sale are detailed below:
Token Price:

1ETH = 10,000 GES Tokens

.
Maximum Supply:

300M with unsold tokens burned

.
Market Buyback:

20 percent quarterly profit used on quarterly buyback

with 50 percent burned.
Token Value Protection:

GES to buy back in stages

as long as market price falls below the listed price.
Token Usage:

Tokens can be used in the ecosystem

for services and products (5 percent of purchases will be credited monthly in GES token).
Fund Raise:

Monthly operational break-even reached

. More funds equate to greater development and faster growth.
Token Boosts (20 percent minimum for all in view of recent ETH surge, a goodwill from GES):
20%

– 0.1 to 49ETH

25%

– 50 to 99ETH

30%

– 100 to 249ETH

35%

– 250 to 499ETH

40%

– 500 to 999ETH

45%

– 1000 to 2499ETH

50%

– 2500ETH and above
Visit the Official website – https://galaxy-esolutions.com
Check out the Bitcointalk – https://bitcointalk.org/index.php?topic=2715023.0
Like on Facebook – https://www.facebook.com/Galaxy-e-Solutions-1244602885645627
Follow Galaxy on Twitter – https://twitter.com/Galaxye_eSol
Meet the team on LinkedIn – https://www.linkedin.com/company/13462257
Read the Medium – https://medium.com/@GalaxyeSolution
Connect on Telegram – https://t.me/gesico
Find Galaxy on Reddit – https://www.reddit.com/user/Galaxy_eSolutions
Media Contact
Contact Name: Ali Omar Horzum
Contact Email: info@tokensuite.io
Location: Hong Kong, China
Disclaimer: Galaxy eSolutions is the source of this content. Virtual currency is not legal tender, is not backed by the government, and accounts and value balances are not subject to consumer protections. This press release is for informational purposes only. The information does not constitute investment advice or an offer to invest.
Related Links
Galaxy eSolutions
Bitcoin PR Buzz
Press Release Service by
Newswire.com
Original Source:
Galaxy eSolutions, the Established and Profitable Refurbished Electronics Ecosystem Announces Token Sale to Create an Efficient and Trustworthy Marketplace