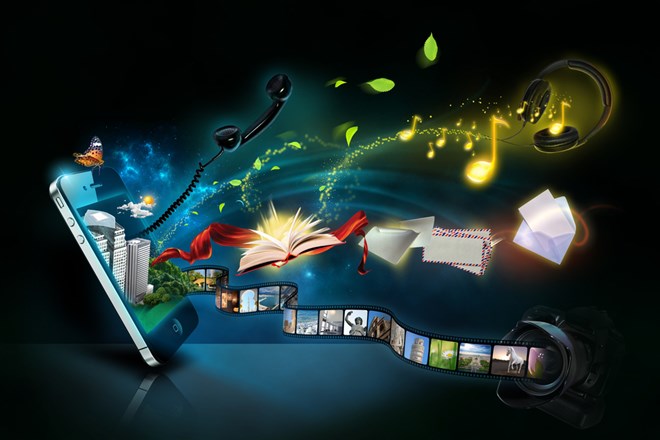 Mobile and video technology development company InterDigital Inc. (NASDAQ: IDCC) stock has been on a four-week surge since breaking out of its weekly rectangle trading range. A series of events has led shares to skyrocket since the beginning of 2023 as it approaches its 52-week highs.
The Company focuses its research on wireless communications, standards, data transfers, and cellular technology, building up a treasure trove of patents and IPs. The Company is also partaking in the EU's five Horizon Europe 6G flagship research projects.
Big Patent Licensing Portfolio
InterDigital licenses its patents to major tech firms for use in its products. It also performs R&D for clients as well as consulting services. The Company licenses its patents to technology giants, including Intel Co. (NASDAQ: INTC), Qualcomm Technologies Inc.  (NASDAQ: QCOM), Sony, NEC, Huawei, ZTE, Samsung Electronics Co. (OTCMKTS: SSNLF), and Nokia Oyj (NYSE: NOK). The Company recently renewed its license agreements with Apple Inc. (NASDAQ: AAPL) through 2029.
They were previously embroiled in a patent infringement case concerning iPhones and iPads, which was settled with a licensing agreement.
Bottom Line Beat with Top Line Shrinkage
InterDigital reported its fiscal Q3 2022 earnings for the quarter ending in September 2022 on Nov. 3, 2022. The Company reported earnings-per-share (EPS) of $0.74, beating consensus analyst estimates of $0.59 by $0.15. Revenues fell (-20%) year-over-year (YoY) to $114.8 million, beating consensus analyst estimates for $113.51 million.
InterDigital CEO Liren Chen commented, "We significantly strengthened our business by renewing our license with Apple through 2029. In addition, new agreements drove our sixth consecutive quarter of recurring revenue growth in the consumer electronics and IoT/automotive markets.
Altogether, we have signed sixteen agreements over the last eighteen months with a total estimated contract value of more than $1.5 billion.
I look forward to building on this foundation as we pursue significant growth opportunities in licensing both devices and services."
Q4 2022 Revenue Estimate
InterDigital expects recurring revenues for Q4 2022 between $98 million to $112 million. This estimate is based on existing contracts which include the renewal with Apple. It doesn't consider any new contracts they may sign during the balance of the fourth quarter.
Eventual January 2023
InterDigital started off the new year with several material news items. On Jan. 3, 2023, InterDigital renewed two patent licenses with Panasonic Entertainment & Communications covering its DTV and HEVC patents. It also signed a VVC and HEVC patent license with LG Electronics covering LG products from PCs to televisions. It also boosted its stock buyback program to $400 million.
Re-raised Q4 Guidance
On Jan. 19, 2023, InterDigital issued upside guidance for Q4 2022 EPS of $0.93 versus $0.74 consensus analyst estimates. It sees Q4 2022 revenues of $114 million versus $102.55 million analyst estimates. The raised guidance was primarily due to new contracts being signed in the fourth quarter. Net non-operating income will be around $1 million versus the previous expectation of non-operating expenses between $4 million to $6 million due to higher interest income and FX gains.
Dutch Auction Tender Offer
On Jan. 23, 2023, InterDigital announced a Dutch auction tender offer to buy back up to $200 million of stock between $60 to $69 per share from shareholders, which expires Feb. 17, 2023. A Dutch auction tender is when the Company offers to buy back shares from its shareholders within a specified price range.
Shareholders decide how many shares they wish to sell and at what price back to the Company. The Company will then decide the highest price it's willing to pay for those shares, at which point all shareholders who priced their shares at or below that price will have their shares purchased at that price.
This tender offer is also referred to as a reverse auction since the Company starts at a high price and gradually lowers it until it achieves the number of shares it set out to acquire. InterDigital plans to purchase between 2.9 million to 3.3 million shares, or roughly 9.8% to 11.2% of outstanding shares.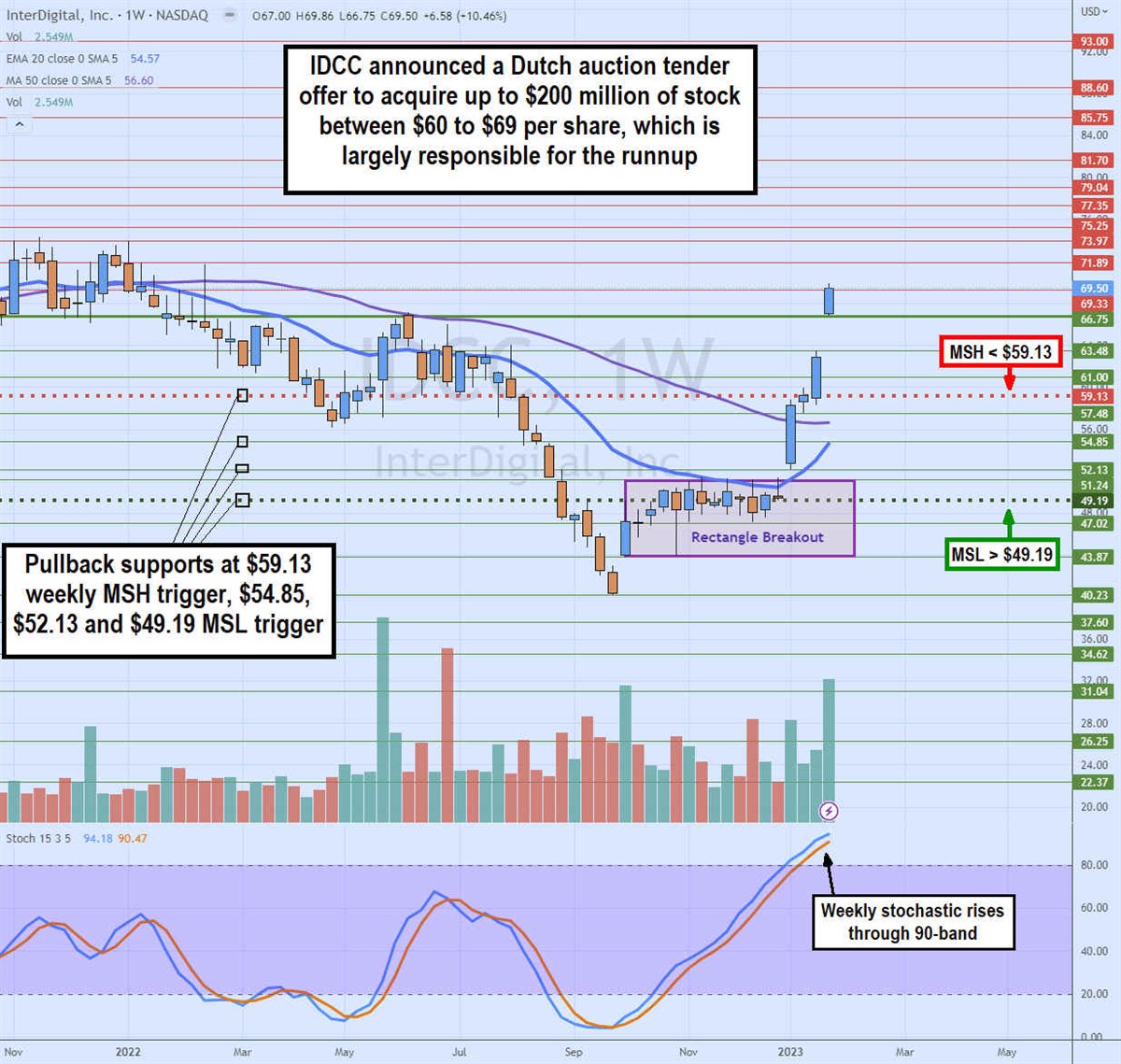 Weekly Rectangle Breakout
IDCC shares triggered a market structure high (MSH) breakdown after peaking at $66.75 in June 2022. The MSH triggered in August 2022, resulting in nine consecutive weeks of selling as it peaked at $40.23 in September 2022. IDCC staged a rally as the weekly market structure low (MSL) triggered the breakout through $49.19.
But shares got caught in a weekly rectangle trading range between $51.24 and $43.87 from October through December 2022 before finally breaking out in January 2023 for four straight weeks as shares near their 52-week highs. The weekly stochastic made its oscillation up from the 10-band through the 90-band.
The weekly 20-period exponential moving average (EMA) rises to $54.57 to cross the 50-period MA at $56.60. Shares are overbought on the weekly chart, so it's prudent to watch for pullbacks to support at $59.13 weekly MSH trigger, $54.85, $52.13, and $49.19 weekly MSL trigger.