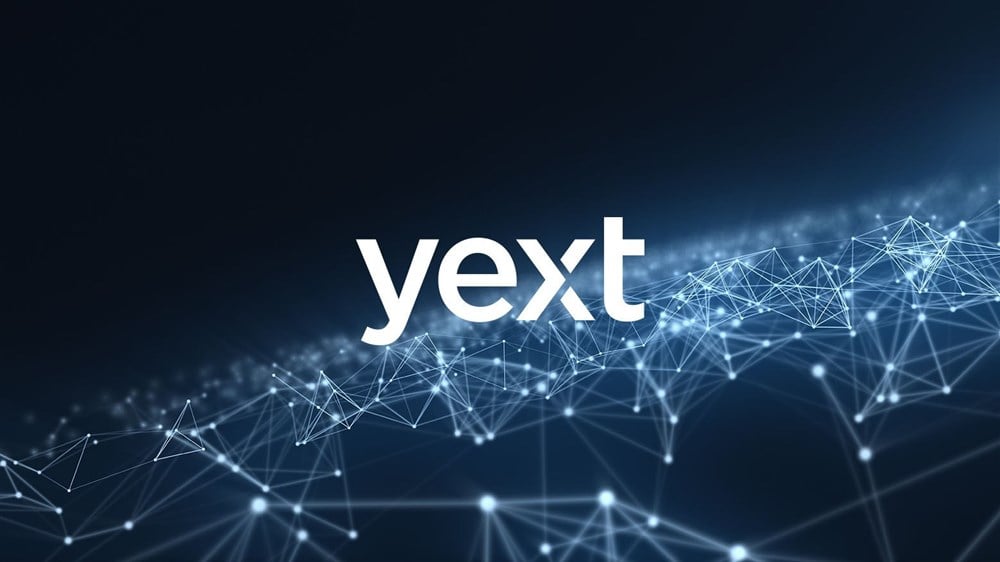 Yext Inc. (NASDAQ: YEXT) offers a one-stop shop platform for businesses to create, adjust and update information about them. The artificial intelligence (AI) powered content management platform updates the information consistently across the internet and mobile sources. It lets businesses stay abreast of customer experiences while keeping their content consistent.
Rather than attempt to correct or update information across hundreds of online sites manually, businesses can conveniently make adjustments on the Yext content management platform. Yext has also launched studio and generative AI content generation features enabling the creation of on-brand business-specific content consistent with a company's writing patterns and styles.
This solution has been embraced by many well-known brands, including Starbucks Co. (NASDAQ: SBUX), Domino's Pizza Inc. (NYSE: DPZ), The Home Depot Inc. (NYSE: HD), Subway and Lego.
Content Management Platform
Yext offers many services to improve the company's online presence and customer experience. Its listing services are a single one-stop source of truth that businesses can use to create and manage their listings across hundreds of online sources, including websites, social media, search engines and mobile. It lets businesses respond to customer reviews, track the performance of their reviews and provide insights into what customers are saying about them.
Companies can provide answers to customer questions and create their knowledge base through the Yext Knowledge Engine. It also provides search engine optimization (SEO) across the most prominent search sites, including Alphabet Inc. (NASDAQ: GOOGL) Google, Microsoft Co. (NASDAQ: MSFT) Bing, Apple Inc (NASDAQ: AAPL) Business Connect and Amazon.com Inc. (NASDAQ: AMZN).
Turnaround Taking Shape
On June 6, 2023, Yext released its fiscal first-quarter 2024 results for the quarter ended April 2024. The Company reported an earnings-per-share (EPS) profit of $0.09 versus $0.05 consensus analyst estimates, a $0.04 beat. The Company had a net loss of (-$0.04 million). Adjusted EBITDA was $14.4 million. Revenues rose 0.7% year-over-year (YoY) to $99.45 million, beating analyst estimates of $98.55 million.
Annual run rate (ARR) rose 3% YoY to $398 million compared to $387 million in the year-ago period. Customer count rose 5% YoY to 2,970. The company ended the quarter with $217 million in cash and cash equivalents. The remaining performance obligation (RPO) was $428 million, with $373 million expected to be recognized over the next 24 months.
CEO Insights
Yext CEO and Chairman Michael Walrath commented, "Our results demonstrate our continued commitment to driving efficiency and executing our operational and financial goals. Yext is ideally positioned to help enterprises use generative AI, search, content management, and related technologies to deliver world-class digital experiences." Walrath exclaimed that the calendar year 2023 was a turning point. The company reduced its workforce by 8% and transitioned parts of its lower-margin business to its partner ecosystem and system integrators.
This helped non-GAAP gross margins expand 280 bps to 79.2%. Generative AI will create new opportunities, including its recently launched studio and content generation features that implement large language models to generate business-specific content consistent with the company's branding and style.
Raising the Bar
Yext raised fiscal Q2 2024 EPS of $0.06 to $0.07 versus $0.05 consensus analyst estimates. It sees revenues of $100 million to $101.5 million to $102.5 million versus $100.13 million analyst estimates. Fiscal full-year 2024 revenue expectations were raised to $404 million to $407 million versus $403.58 million analyst estimates. Prior estimates for fiscal 2024 were for EPS of $0.22 to $0.23 and revenues between $402 million to $406 million. 
Yext analyst ratings and stock price targets are at MarketBeat.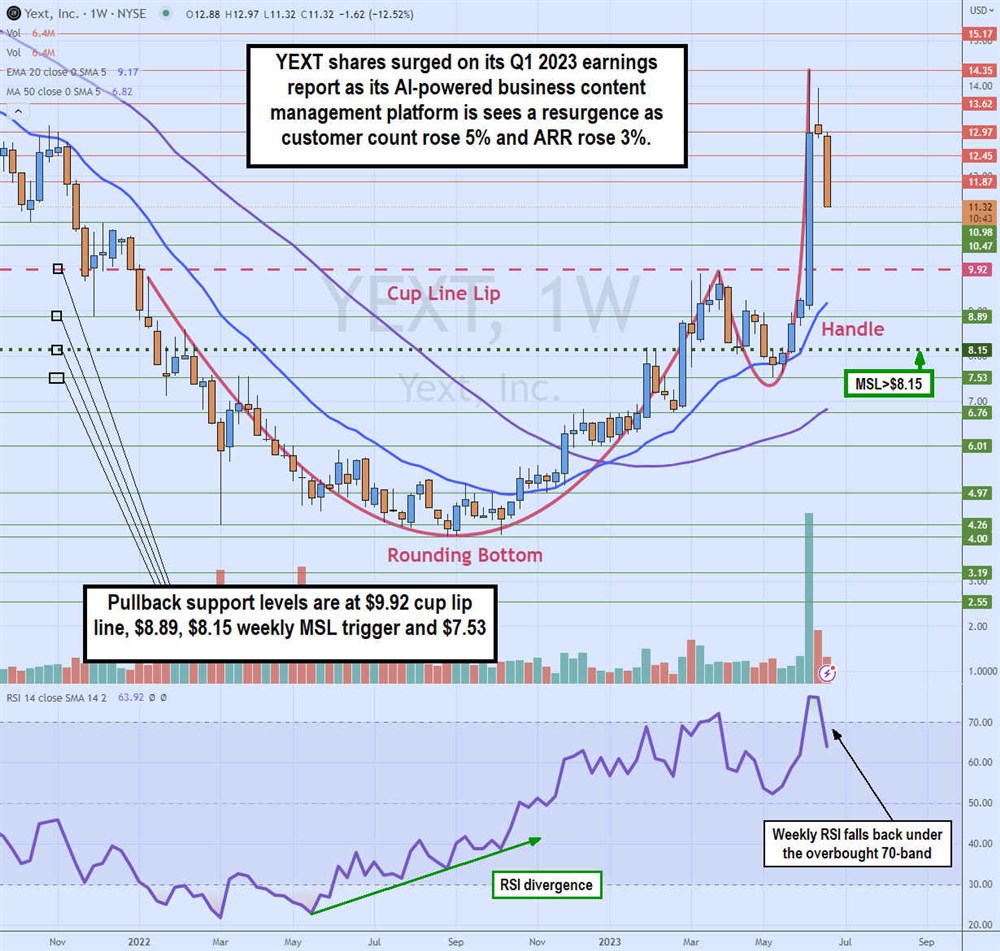 The definitive beginner's guide to reading stock charts can be found free on Marketbeat.
Learn how to use the RSI indicator on MarketBeat.
Weekly Cup and Handle Breakout
The weekly candlestick chart on YEXT started forming its lip line at $9.92 in January 2023 as shares cascaded lower to bottom out at $4.00 in August 2022. The weekly RSI had a divergence after dipping to the 23-band in May, hitting a low of $4.68 but making a new low of $4.00 in August 2022 with a higher weekly RSI at the 34-band.
This signaled the buyers bidding up shares as the weekly rounding bottom formed, propelling YEXT back to retest the $9.92 cup lip line in March 2023. YEXT shares pulled back to form a handle low at $7.53 and triggered a weekly market structure low (MSL) breakout through the $8.15 trigger as shares exploded to a high of $14.35 on strong Q1 2023 results and raised guidance.
This also sent the weekly RSI up to the overbought 76-band before plunging back down to the 64-band as shares rug pulled back to $11.37 two weeks later. Pullback supports are at $9.92 cup lip line, $8.89, $8.15 weekly MSL trigger and $7.53.