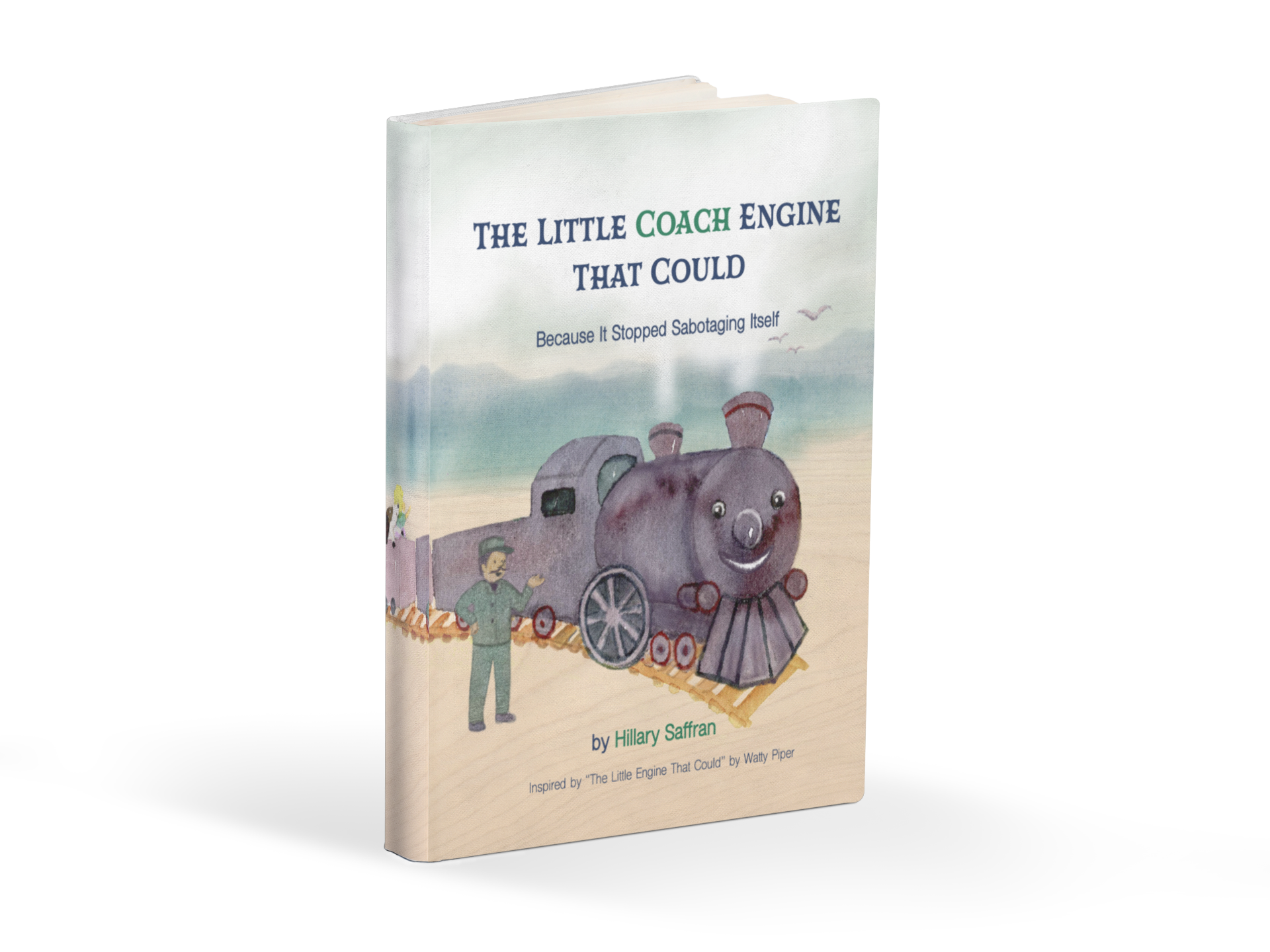 The Little Coach Engine That Could Because It Stopped Sabotaging Itself addresses the insecurity that new business owners experience in starting their practice, offering practical solutions in a fun and entertaining way.
Written by Hillary Saffran and illustrated by YoungJu Kim, The Little Coach Engine That Could Because It Stopped Sabotaging Itself offers a fresh new take on an old classic, reimagined for modern adult audiences. Saffran offers years of wisdom acquired from working with coaches, therapists and healers through the lens of the famous children's book, The Little Engine That Could. Despite having lots of value to offer her passengers, the titular coach engine struggles to believe in herself and often worries that she does not have what it takes to complete her journey. She compares herself to newer, shinier engines that she encounters along the way and doubts that she should continue on. But, with the help of new friends, the coach engine learns that she is more capable than she thought. The book is an inspiring metaphor for overcoming imposter syndrome and self-doubt that concludes with real-life context on the coaching industry and how readers can use it to jumpstart their careers.
"When I first became a therapist, I experienced imposter syndrome. I wanted to share how I overcame it in a fun and entertaining way for other new practitioners and business owners," says author Hillary Saffran. With a diverse background in social services, therapy and the arts, Saffran brings a unique and original perspective to dealing with difficult life challenges. In the book, Saffran encourages practitioners to overcome the urge to compare themselves to others and prepares them with invaluable advice for how to do exactly that as they commit to their work, their clients and themselves. "Many new business owners and practitioners will procrastinate in starting or marketing their business…[because they] don't feel qualified enough to do the work they were trained to do. I addressed this issue in the form of a children's book with beautiful illustrations to make it a more engaging way to convey the concept of how to overcome their negative self-talk."
If the very premise of The Little Coach Engine That Could isn't clever enough to pull you in, then, perhaps, the real-world practicality of its message will suffice. In addition to being quite useful, the book is thoughtful, inventive, and well-executed. In addition, despite writing the book for adult professionals, Saffran opts to maintain the original tone and voice of the children's story, which goes a long way in speaking to the inner child, the part of us most susceptible to imposter syndrome and other related forms of self-sabotage. Similarly, the book includes heartwarming illustrations that help readers settle into an open, beginner's mind. What truly makes the book standout is in the way it derives humor in reminding readers that this is, in fact, a contemporary story and they are, in fact, adults. Saffran makes passing references to mp3 players, LinkedIn profiles and other industry appropriate tools that, when read in the context of the children's story, conveys a certain playfulness, charm, and self-awareness.
The book has received positive reviews from some of the most well-renowned literary organizations, authors, and reviewers around the world. Author Toni Truesdell writes, "What an Inspiring, Delightful and Confidence Affirming Book. It will put your life back "on track" while bolstering your confidence so you can meet your personal goals!"
The Little Coach Engine That Could: Because It Stopped Sabotaging Itself is a must read for life coaches, therapists, and healers struggling with imposter syndrome and looking to step into their work with more confidence. Available for sale on Amazon, Barnes & Noble, Kobo, Nook, and other online bookstores, readers who are ready to take the next step in your career are encouraged to purchase their copy today: https://www.amazon.com/Little-Engine-Because-Stopped-Sabotaging/dp/B0BBPJ6T46/ 
About the Author
Hillary Saffran has worked in social services for many years while raising three children on her own. Hillary had to discover ways to cope with the financial strain and stress related issues. She became a birthday party clown, ventriloquist, and author, turning her stress and life challenges into avenues that brought her tremendous relief, while simultaneously bringing joy to others. Now also a motivational coach and therapist, it is her desire to share what she's learned in her journey of life with others and to spread some hope and happiness along the way. To learn more, please visit: hillarysaffran.com
Connect with Hillary Saffran on Social Media
https://www.facebook.com/hillary.saffran
https://www.linkedin.com/in/hillarysaffran/
https://www.instagram.com/hillarysaffran/
Media Contact
Company Name: Author News Network
Contact Person: Media Relations
Email: Send Email
Country: United States
Website: authornewsnetwork.com