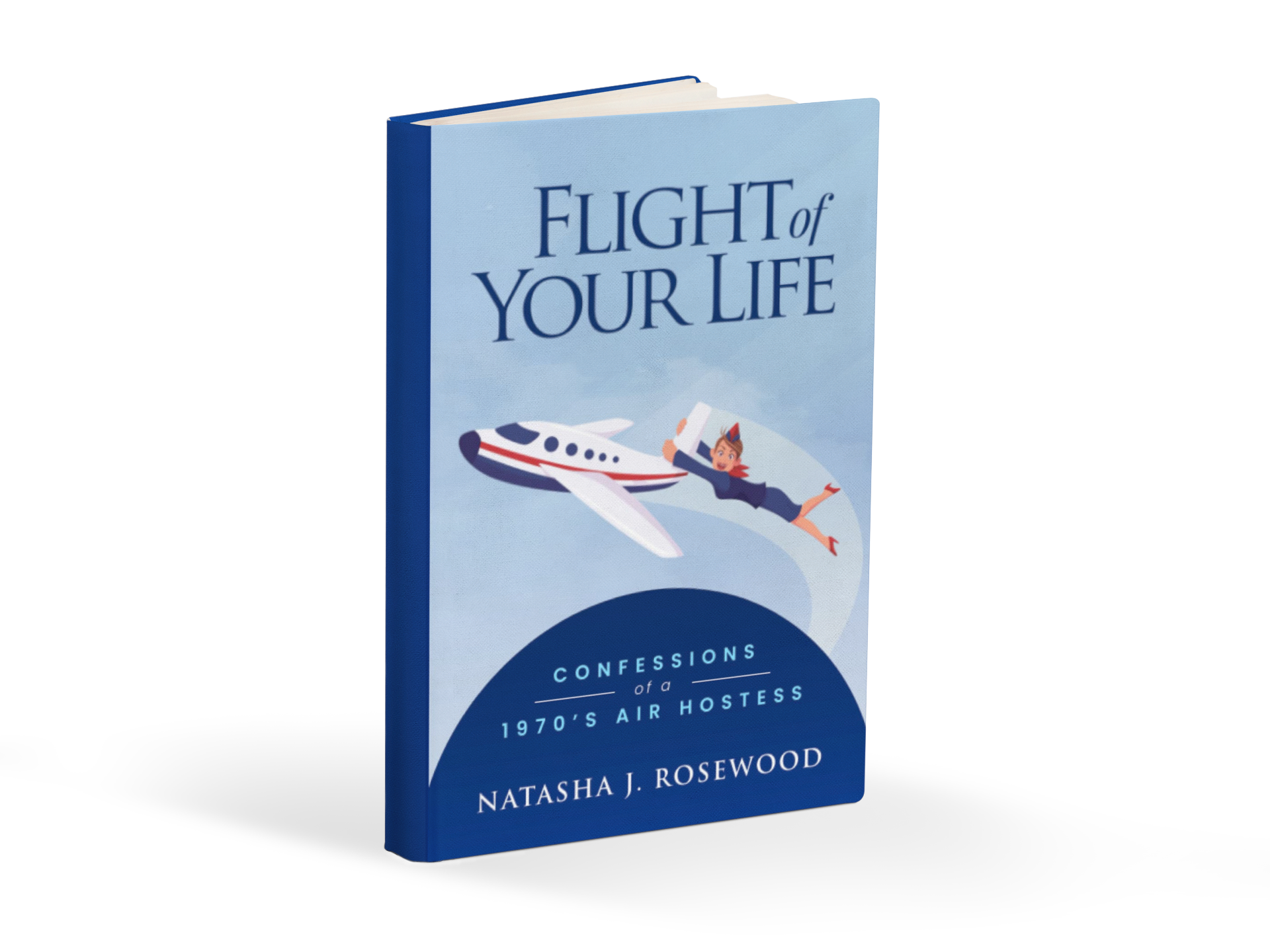 In Flight of Your Life! Natasha, a multilingual British air hostess recounts her uproarious adventures in the '70s, flying short haul all over Europe while dealing with the idiosyncrasies of numerous nationalities−and surviving to tell the tales.
In Flight of Your Life: Confessions of a 1970's Air Hostess, Natasha Rosewood shares a variety of entertaining and educational stories that share the challenges and nostalgic fun of being part of an air crew in the un-techie 1970s. Not only do drunken exit-removing Scottish football supporters, naughty captains, haunted aircraft and flying on old, defective planes threaten her safety, she must also navigate the eccentricities of outrageous passengers and crew. Even on the ground, the emergencies of friends and her own romantic escapades threaten to derail her. But through it all, readers get a front row seat witnessing the best, worst and funniest sides of humanity.
"By writing Flight of Your Life, I wanted to share, reminisce, entertain and educate the general public about the real role of flight crew," says author Natasha J. Rosewood. After flying for eight years, learning to speak five languages and living in seven countries, Rosewood brings unique insight into the psyche of humanity and what can soften our journeys through life. A multi-faceted talent who has penned both books and screenplays, Rosewood's goal with her writing is to share positivity, hope, and reconnect humanity with its greatest potential and sense of humor. "In a post-Covid world where we take ourselves, and each other, so seriously, I wanted to nudge people toward remembering the good old days and how to, even in adversity, have some fun."
Flight of Your Life is at its heart, a memoir, but the episodic arrangement of its quirky collection of misadventures often gives it the feel of a book of short stories. This unique quality imbues the book with originality and makes for a quick and engaging read that can be taken on all at once or casually over a longer period of time. Rosewood's stories and the voice in which she conveys them are intoxicating; it's the best kind of gossip dished out at the dinner table that leaves you wishing you'd have been there to experience at least one of these tales. More than anything else, Flight of Your Life is a book about people; the characters it features are one of a kind, for better or worse. Each of them reminds us that we don't have to be perfect in order to be special.
Flight of Your Life has been endorsed by experts, authors, and reviewers around the world. Reviewer Pam R. writes, "A very entertaining read [offering] an insider's look at the challenges of being a flight attendant." In addition, business consultant Sharon Sander writes, "Heartwarming and a joy to read. I probably read 100s of books a year and this one is a real gem." 
Flight of Your Life is witty, charming, and insightful; Rosewood's hilarious stories provide exciting insights into the world of flying and the human spirit. Available for sale on Amazon, readers looking for a laugh-out-loud joyride with a meaningful message are encouraged to purchase their copy today: https://www.amazon.ca/dp/0973471131
About the Author
Natasha J. Rosewood, born in England, has always been fascinated with people, travel, languages, storytelling and metaphysics. At 22, with three European languages under her belt, Natasha began a career as a flight attendant, while at the same time studying palmistry. In 1983, after eight years of flying international routes, including a contract in Libya−and having acquired conversational proficiency in three more languages−Natasha emigrated to BC, Canada, where she evolved into a master metaphysician and prolific writer of books and films. Her first three published books — Aaagh! I Think I'm Psychic (And You Can Be Too), Aaagh! I Thought You Were Dead (And Other Psychic Adventures) and Mostly True Ghostly Stories--continue to elicit the highest accolades for her writing, teaching skills and humor. Her intention is to heal and empower using quantum healing techniques and inspirational stories to reconnect humanity with its greatest potential and sense of humor!
Connect with Natasha J. Rosewood on Social Media
https://www.facebook.com/NatashaRosewood 
https://www.twitter.com/NatashaRosewood
https://www.linkedin.com/in/natasha-rosewood-5571a37/
Media Contact
Company Name: Author News Network
Contact Person: Media Relations
Email: Send Email
Country: United States
Website: authornewsnetwork.com