Aim of the Conference was to Promote Global Connections, Reliable Partners, and One-to-One Negotiations through means of technology.
Bangkok, Thailand - March 22, 2023 /MarketersMEDIA/ —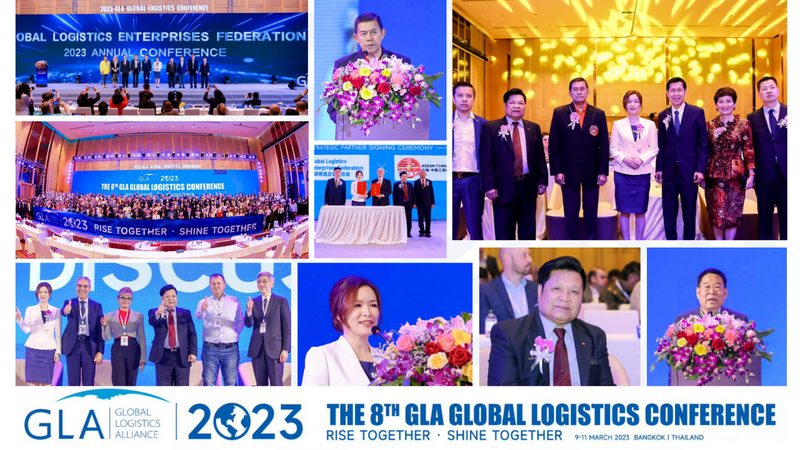 The GLA 8th Global Logistics Conference, hosted by the Global Logistics Enterprise Federation and GLA Global Logistics Alliance Network, was held from March 9 to 11, 2023 in Thailand. The conference was attended by many important guests from various sectors. The event aimed to "showcase cutting-edge logistics technology and promote its application in the industry", as well as "encourage the coordinated development of logistics industries worldwide". The conference was broadcasted on multiple media platforms to reach a broader audience.
Key Personalities & Speakers.
The conference hosted several important guests, including former Deputy Prime Ministers of Thailand, H.E. Mr. Korn Dabbaransi and H.E. Mr. Phongthep Thepkanjana, Ms. Grace Sun, President of the Global Logistics Enterprise Federation and Founder of the GLA Global Logistics Alliance Network, Mr. Wang Ensen, President of the China Association of International Logistics and Transport, ,Dr. Darwin Yang, Chairman of the ASEAN-China Chamber of Commerce and Dr. Wiboon Shamsheun, from Ministry of Science and Technology. Over 1,000 international supply chain and logistics professionals from 106 countries, as well as 40 Thai government and business association leaders, also attended.
Announcements Made at the Conference.
Ms. Grace Sun introduced the Global Logistics Enterprises Federation at the 8th GLA Global Logistics Conference. She said, "GLA is working to set up a global supply chain and a new collaborative ecosystem, while improving the global industrial supply chain and international logistics digitization circulation and develop collaboratively and share many resources together".
Former Deputy Prime Minister of Thailand and Chairman of the Thai-Chinese Friendship Association, His Excellency Mr. Korn Dabbaransi praised the strong relationship between Thailand and China and commended the GLA Global Logistics Conference. He said, "It is a valuable platform for international experts to engage in productive discussions". He also recognized the 20th anniversary of China-ASEAN partnership and emphasized Thailand's strategic location. The summit promotes a collaborative logistics network that benefits individuals and businesses from diverse nations.
His Excellency Mr. Phongthep Thepkanjana, former Deputy Prime Minister of Thailand, highlighted the fruitful results of the comprehensive strategic partnership between Thailand and China in various fields. 
He said, "I truly commend the Global Logistics Alliance Network (GLA) and offer them my gratitude for choosing Thailand as the venue for 8th Global Logistics Summit". He further highlighted the importance of GLA and said, "GLA is a global logistics network connecting over 200 countries to facilitate collaboration and resource-sharing among logistics enterprises. It has contributed significantly to the international logistics industry and will continue to benefit from the "Belt and Road" project".
Mr. Wang Ensen, Chairman of the International Logistics and Transport Society in China said, "the need to strengthen production-demand coordination, international trade cooperation, and digitization of the global supply chain to establish an effective collaborative international supply chain system is the need of the hour".
GLA 8th Global Logistics Conference Summit Forum.
The 8th GLA Global Logistics Conference Summit Forum had the theme "New Turning Points, Seeking Opportunities." Experts from various continents shared insights on changes in the logistics and supply chain system, digital transformation, and post-pandemic circulation. The forum aimed to establish an industry ecosystem and provide development opportunities for digital technology and international logistics, enabling enterprises to expand their markets.
Signing Ceremony of Strategic Framework.
GLA (Global Logistics Alliance), Global Logistics Enterprises Federation and the ASEAN-China Chamber of Commerce signed a Strategic Framework Agreement to work together. In the presence of senior experts from the Thai Ministry of Defense, the strategic framework cooperation agreement was signed by Ms. Grace Sun and Dr. Darwin Yang, signifying a crucial milestone in fostering stronger collaboration between these organizations.
Gala Dinner & Cocktail Party.
Gala Dinner and Cocktail Reception events were designed to foster valuable connections and facilitate meaningful conversations among attendees. These exclusive events were an opportunity for conference participants to engage with one another in a relaxed and convivial atmosphere. With its emphasis on networking and socializing, the GLA cocktail reception was a primary highlight of the conference, providing attendees with the perfect platform to exchange ideas, share insights, and forge lasting relationships within the industry.
Football and Badminton Tournament.
GLA hosted an exciting sports event, featuring both a football and badminton tournament. Participants from various logistics companies competed against each other in thrilling matches, showcasing their skills and teamwork on the field and court. The tournament was a fun-filled one, bringing together professionals from the industry to network, bond, and enjoy some healthy competition.
Conclusion.
The 8th Global Logistics Conference provided a platform for international logistics entrepreneurs to capitalize on emerging opportunities, unlock global growth, and set a new course for logistics development. Moreover, the conference extensively discussed cutting-edge fields such as big data, artificial intelligence, and block-chain, which hold tremendous potential to transform the future of the logistics industry. The conference aimed to provide a platform for logistics companies from around the world to engage in direct, personal communication, thereby fostering growth and development of the global logistics industry. 
About Global Logistics Alliance (GLA):
GLA is a network for over 5,000 logistics companies from 170+ countries in the world. GLA provides a platform for helping our members find business, reliable overseas agents with integrity and expand their global business network as they can post agent requests, inquiries and competitive rates etc. GLA aims at becoming the most efficient and useful network for small and medium-sized logistics companies and brings more benefits to their members. The company's motto is "We Believe Together We Rise, We Shine."
For more information, visit the website at https://www.glafamily.com or contact Mr. Malik (Business Development Director) at malik@glafamily.com or call +86 - 18927434147.
Contact Info:
Name: Ms. Grace Sun (Business Development Director)
Email: Send Email
Organization: Global Logistics Alliance – GLA Family
Website: https://www.glafamily.com/

Release ID: 89092457
If you detect any issues, problems, or errors in this press release content, kindly contact error@releasecontact.com to notify us. We will respond and rectify the situation in the next 8 hours.