Join Business Celebrity Experts At Small Business Tech Day. Designed To Boost Business Technology Oversight, Provide Competitive Advantage, & Guidance Against Online Threats. This FREE online event includes celebrities like Shark Tank's Robert Herjavec, AI Expert Adam Cheyer, and entrepreneur extraordinaire Mike Michalowicz.
Boston, Massachusetts, United States - September 27, 2023 —
Konrad Martin, owner and founder of Tech Advisors, an IT services company serving businesses in Boston MA, is officially a host of the second annual Small Business Tech Day happening November 16th.
This FREE online event includes celebrities like Shark Tank's Robert Herjavec, AI expert and top technology leader Adam Cheyer, and best-selling author and entrepreneur extraordinaire Mike Michalowicz, & an intriguing surprise guest host, unveiling an advanced technology solution that goes beyond prevention to proactively hunt down threats, partnered with Tech Advisors.  

The event is designed to help small businesses equip themselves with the best technology and practices available today to increase productivity and profitability and protect them against online threats.
"It's nearly impossible for businesses to stay up-to-date on emerging trends in technology. It's been that way for years, but with the emergence of AI, dependence on "work-from-anywhere" models, and, unfortunately, an increase in online threats from overseas, it's more important than ever to know what's happening. The right tools, services, software, and partners can be the difference between business growth and going out of business. Owners and their employees can improve their quality of life while increasing productivity and profitability when they use technology the right way, and that's what we want to bring to Boston small businesses." said Konrad Martin, chief executive officer for Tech Advisors.
This international event will feature well-known business leaders, tech experts, and leading minds showing small businesses how to compete and succeed in many aspects of their business with a concentration on utilizing emerging technology trends. For more information about Small Business Tech Day, go to tech-adv.com/tech-day-2023/ or call 508-356-5565 and let them know you'd like information on the FREE local event on November 16th.
Featured Speakers And Sessions:
"A Shark's-Eye View Of The Future Of Small Business Tech" - Robert Herjavec
With 20+ years in the tech industry and the owner of a multimillion-dollar cyber security business, Shark Tank Celebrity Robert Herjavec will discuss the distinct differences between businesses losing money and those that are becoming more profitable and growing. To be a business that earns more and is growing, you'll discover when, where, why and how to invest (or not!) in business technology that is constantly emerging in the marketplace.
"New Business Protections You Need In Place NOW To Safeguard Your Assets" - Konrad Martin
Roughly 61% of all SMBs were the target of at least one cyber-attack in the past few years, which can equal hundreds of thousands of dollars in lost revenue. It's no longer a question of IF you'll get hacked, but WHEN. Millions of organizations are being held hostage by cybercriminals and hackers. During this session, you'll get actionable steps to take to proactively protect your business from lost profits and irreparable reputational damage.
"The Good, The Bad, And The Ugly Of AI In Small Business" - Adam Cheyer
The last few years have seen disruptive breakthroughs in artificial intelligence (AI) at an insane rate and have introduced programs like ChatGPT. Your business needs to be prepared for current programs and technology and what's on track to possibly disrupt it further. Siri Cofounder Adam Cheyer will dive into how AI will affect the future of small business and what he predicts will launch you ahead of your competition.
"How To Get Your Business To Run On Its Own" - Mike Michalowicz
If you've ever felt like your business might collapse without you, tune in to Bestselling Author Mike Michalowicz's session to see what you need to have in place so you have the freedom to take a vacation or some well-deserved time off. His actionable steps will help enable your employees to act like owners so you can walk away guilt-free while your business continues to thrive.
About the Author
Konrad Martin is a man on a mission. His aim is to help organizations understand, recognize and manage the extraordinary risks posed by cybersecurity threats, and to create the structural resiliency necessary to minimize the danger, mitigate the damage, and recover quickly when a cyber intrusion occurs.
Konrad is a nationally recognized authority on cybersecurity and IT issues. He is the co-author of Cyber Storm, an Amazon #1 best seller, and the author of Hacked: How to Protect Your Business from the Fines, Lawsuits, Customer Loss & PR Nightmare Resulting from Data Breach and Cybercrime. He was a guest expert on the recently-released Amazon Prime documentary "Cyber Crime 2: The Dark Web and Cyber Crime."
His firm, Tech Advisors, Inc., provides technology consulting and management services to a wide range of professional services organizations across the country, and is ranked among the Top 250 Managed Security Services Providers by MSSP Alert.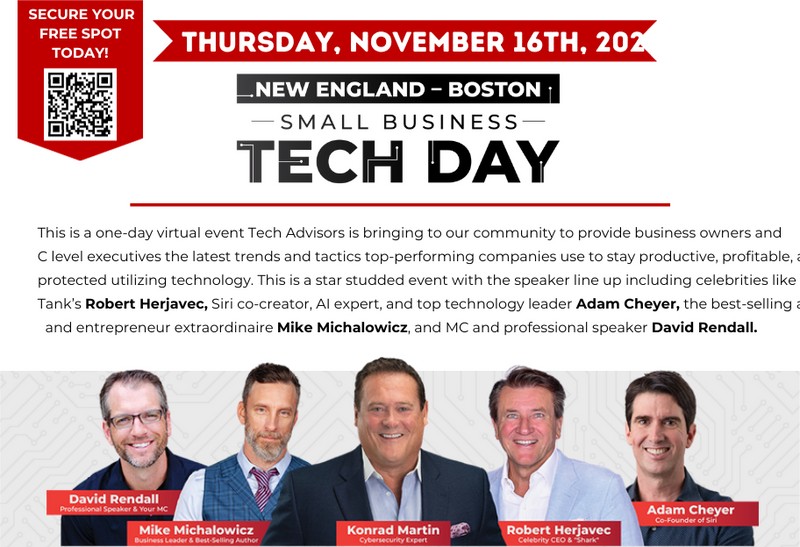 About Us: Tech Advisors is a leading IT solutions provider specializing in IT Support, Cybersecurity, Compliance, vCSO, Asset Discovery, and Threat Hunting Services. With a commitment to excellence, we empower businesses with tailored technology solutions, ensuring productivity, security, and success. Visit tech-adv.com to learn more.
Contact Info:
Name: Konrad Martin
Email: Send Email
Organization: Tech Advisors
Address: 75 State Street, Suite 100 Boston, MA 02109
Phone: 508-356-5565
Website: http://www.tech-adv.com

Video URL: https://youtu.be/BOyyORmFafo
Release ID: 89108088
In case of detection of errors, concerns, or irregularities in the content provided in this press release, or if there is a need for a press release takedown, we strongly encourage you to reach out promptly by contacting error@releasecontact.com. Our efficient team will be at your disposal for immediate assistance within 8 hours – resolving identified issues diligently or guiding you through the removal process. We take great pride in delivering reliable and precise information to our valued readers.