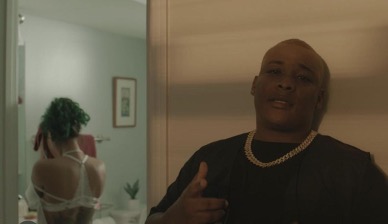 Chicago, Illinois - Edwin Jackson, a rising star in the music industry, is making waves with his unique style and powerful storytelling abilities. Born and raised in the vibrant city of Chicago, Illinois, Jackson's journey from a challenging upbringing in the foster care system to becoming a formidable musical talent has been nothing short of remarkable.
Inspired by rap and hip-hop legends like Drake, J Cole, and Lil Wayne, Edwin Jackson has developed a versatile sound that resonates with audiences on a deep emotional level. His music captures a range of emotions, from heartbreak to joy, as he weaves tales of personal growth, relentless determination, and profound self-reflection. Recording his music in his in-home studio, Jackson's commitment to his craft is evident in every note.
Since his debut single "Overthinkin" hit the airwaves in September 2020, Edwin Jackson has quickly emerged as a rising star, captivating listeners worldwide. His exceptional talent caught the attention of industry heavyweight Fat Joe, earning him a coveted co-sign and opening doors to new opportunities. With eight singles already released, including the impactful "Self Love" accompanied by a visually stunning music video on VEVO, Jackson has amassed over half a million streams globally.
But Edwin Jackson's journey extends beyond the studio. His electrifying live performances have been met with rave reviews, including a memorable appearance at the SXSW music festival, where he showcased his undeniable talent to a captivated audience. Fans of artists like J Cole, Lil Baby, and NF will undoubtedly find a kindred spirit in Edwin Jackson's music.
Despite the challenges he faced early in life, Edwin Jackson's unwavering dedication to his passion for music fuels his ambition to create a lasting legacy. His authenticity and ability to craft compelling narratives have positioned him as an artist to watch in the music industry.
As anticipation builds, Edwin Jackson's forthcoming album, set to release in January 2023, promises to be a monumental milestone in his career. Fans and industry insiders alike eagerly await the next chapter in this rising star's journey.
Media Contact
Contact Person: Edwin Jackson
Email: Send Email
Phone: +1 (609) 900 5666
Country: United States
Website: https://sprouter.app/edwinjackson?fbclid=PAAaYNWS0OoWIfGjBQkgRVxo8xc8TGb6p1d1iej_Xxynd1gG8JLvx4z-KoawE_aem_th_AYSqVRLaBRgJtcRErjzHH1sRyg2t4hTetfHLLakHCqPydsNi46GsqSh9zMgCM3wY8oI