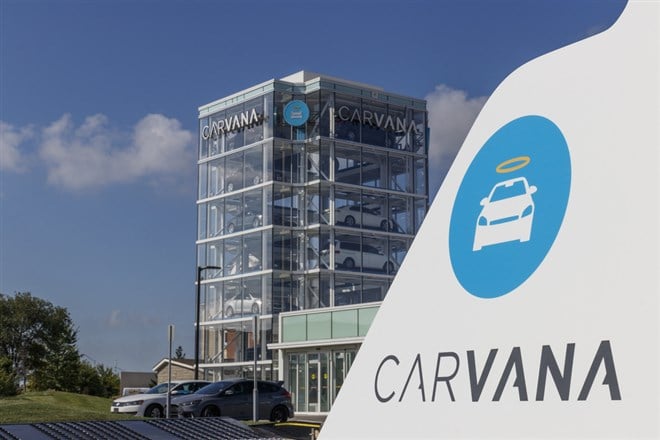 The days of used cars commanding steep prices are in the rearview mirror, and the downward trajectory of dealer Carvana Co. (NYSE: CVNA) is sign of these conditions.
Carvana shares more than doubled in the past month, and the stock has posted a one-week return of 39.28%. The move has the makings of a short squeeze, with echoes of the meme-stock frenzy that sent stocks such as AMC Entertainment Holdings Inc. (NYSE: AMC) and Bed Bath & Beyond Inc. (NASDAQ: BBBY) to new heights. 
Meme-stock conditions have affected companies with problems inherent to their operations and financial conditions. 
Carvana's price move follows a one-year decline of 93.15%. A glance at the company's chart clearly shows the downtrend.
Only One Profitable Quarter
Revenue has been decreasing for the past five quarters, peaking at 198% growth in the quarter ending in June 2021. That quarter also marked the first and only time the company turned a profit. 
The pandemic-induced worldwide semiconductor shortage and other supply-chain challenges meant new cars were more difficult to find. That sent used vehicle prices soaring. 
A November report from J.P. Morgan found:
Average used-car prices were up 42.5% in September 2022 vs. February 2020.
Used car prices have likely peaked. 
In 2023, prices will decline by 2.5% to 5% for new cars and 10% to 20% for used cars.
Looking at MarketBeat's data on shorting Carvana, you can see that as of January 15, investors sold 55,590,000 shares short. 
The days to cover is 2.3, up 2.75% month-over-month. 
That ratio refers to the number of days that would be needed to close out short sales relative to the total shares outstanding. 
MarketBeat data also indicates that Carvana's short interest has been growing since August. 
Investors have been making a bet that the company is driving itself south. Analysts are taking the same approach, according to MarketBeat data. Since Carvana's last quarterly report in early November, 12 analysts either downgraded the stock, lowered their price targets, or reiterated their "sell" ratings. None upgraded the stock or boosted price targets, although Citigroup reiterated its "neutral" rating.  
Taking The Poison Pill
In January, Carvana implemented what's known as a "poison pill" to prevent a hostile takeover. 
In this case, management (who mistakenly believed high demand for used cars would continue into the foreseeable future rather than ebbing as conditions changed), is hoping to maintain the company's tax status as an unprofitable company. That gives management a way to save money as they continue using the revenue to operate the company. 
The poison pill would prevent any outside investor from getting 5% ownership in the company. If that happened, the tax status would change. Now, if any outside party, which would likely be a hedge fund, activist investor or other institution, existing shareholders could buy new shares at half price, bringing the new shareholder's ownership level below 5%. 
Even with this maneuver, which many analysts believe makes sense from a business standpoint, the company may be headed toward bankruptcy, as the company is saddled with a huge debt burden. 
Looking Like A Short Squeeze
Given all that, how should investors view the current uptick? 
It does have the makings of a short squeeze. The stock rose 19.54% on January 27 in trading volume 54% higher than average. On January 30, it rose  28.70% in volume 331% heavier than normal. 
The upside trades came several days after the news about the poison pill. That suggests it wasn't driven by anything specific about the company, at least in terms of recent news. 
As a whole, the used-car business is in a precarious position now. That's true even for stocks like Copart Inc. (NASDAQ: CPRT), AutoNation Inc. (NYSE: AN), and CarMax Inc. (NYSE: KMX), all of which are seeing revenue declines. However, Carvana made some company-specific errors that its rivals have largely avoided. 
If traders choose to participate in a meme-stock rally, which is what may be happening with Carvana, they need to be nimble enough to enter and exit their trades with near-precision timing and treat their trading as entertainment rather than a get-rich-quick scheme.