BrainMD's Smart Mushrooms are formulated with functional mushrooms that have been clinically studied to help improve cognitive function, memory, and focus.
United States - April 2, 2023 —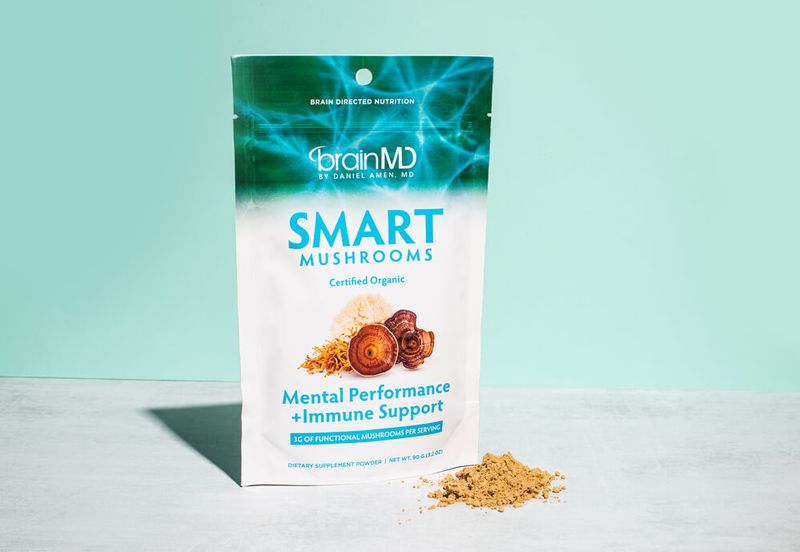 Introducing BrainMD's Smart Mushrooms Powder with brain-healthy adaptogens to boost immunity and brain function. Developed by neuroscientist and brain expert Dr. Daniel Amen, this smart mushroom powder is a more natural way to achieve brain health. Adaptogens and functional mushrooms have been used for centuries, and more recently, clinical studies have proven these nutrients to benefit mental performance, like focus, concentration, immunity support, and cognition. BrainMD's Smart Mushrooms leverage the medicinal properties of mushrooms that may be missing in diets and make it easy to add to daily coffee, smoothie, or just a glass of water.
According to Dr. Amen, nutritional supplements just got more fun and healthier, especially with scientific backing. Mushrooms have long been considered superfoods and for a good reason. This time-tested superfood is packed with essential nutrients ranging from Vitamins B and D, minerals, and powerful oxidants, and is a rich source of beta-glucans. With health and wellness trends commanding attention, more people are looking to functional mushrooms and adaptogens for their ability to strengthen their immune system and mental performance. Now, with BrainMD's Smart Mushroom Powder, people can support their brain health easier than ever.
BrainMD's Smart Mushroom Powder is formulated with six clinically studied medicinal mushroom species. Each mushroom has unique properties that contribute to health and well-being. Together, these mushroom species become a super supplement that improves cognitive function and gut health and generally nourishes the mind and body. They include:
Lion's Mane - a species known to improve outlook, preserve memory, support cognitive function, and reduce anxiety. 
Organic Turkey Tail - with its two beta-glucans, helps boost immunity.
Cordyceps - a great source of nucleoside adenosine that has energy-boosting properties. 
Shiitake - has benefits for the immune system and is mainly used in Japan and China. 
Agaricus - mainly used in Asia to support immunity.
Reishi - the mushroom of immortality, known for its ability to promote relaxation and reduces stress. This mushroom species also enhances the activity of immune cells and could support brain health.
With a focus on brain health and immunity, Dr. Amen created a functional mushroom powder that is superior in quality, formula, taste, and ingredients. BrainMD uses organically grown mushrooms to make a gluten-free, easy-to-use powder. In addition, BrainMD extensively tests to verify the purity, potency, and identity of each ingredient; formulas are checked for heavy metals and microbial contaminants, and products are tracked to ensure customers receive only the best. "At BrainMD, we've dedicated our careers to helping people like you feel better with all-natural, ethically sourced ingredients. Plus, they're free of gluten, eggs, wheat, corn, sugars, artificial coloring or flavoring, and common toxins that many manufacturers don't check for, like dioxins."
To get the full benefits of Smart Mushrooms, a guaranteed happier, healthier, fuller life, people can add the Smart Mushroom powder to their tea, soups, coffee, or smoothies. Dr. Amen shares that better brain health is the key to a healthier and more fulfilling life. BrainMD is proud to offer people a unique and effective way to better their brain health and boost their immune system with time-tested superfoods combined with brain-healthy adaptogens.
Visit BrainMD to learn more about Smart Mushroom Powder.

Contact Info:
Name: BrainMD
Email: Send Email
Organization: BrainMD
Address: United States
Website: http://brainmd.com/

Release ID: 89092934
If you detect any issues, problems, or errors in this press release content, kindly contact error@releasecontact.com to notify us. We will respond and rectify the situation in the next 8 hours.